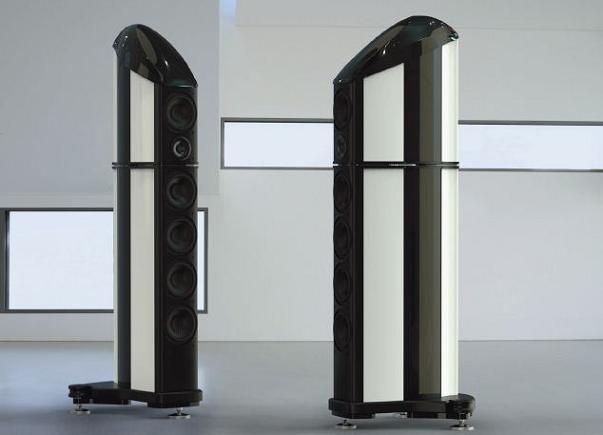 Wilson Benesch, a Great Britian hi-end speaker manufacturer, has just recently introduced their new flagship speaker – the Cardinal.  Wilson Benesch has indicated that the Cardinal Loudspeaker is their most advanced loudspeaker ever.  The Cardinal utilizes a carbon fibre based, advanced composite cabinet system to deliver their highest performance to date.  The design enables a shell structure with a massive air volume.  Using curved elements, the cabinet incoporates a complex internal geometry to counter standing waves and ensure a class leading signal to noise ratio.
The Cardinal is a unique 2.5-way design that uses nine proprietary Wilson Benesch drivers to cover the frequency range from 25Hz to 35kHz: one Semisphere tweeter, two Tactic II drive units for the midrange, four Tactic II drive units for the bass, and an additional two Tactic drive units operating as passive radiators. Each Cardinal weighs 265 pounds and is 68.3" tall. A pair of Cardinals retail for £54,950 in the UK or approximately $71,478 USD.  North Amercian pricing and availability is yet to be announced.
Look for more details on the Cardinal Loudspeaker at: www.wilson-benesch.com.