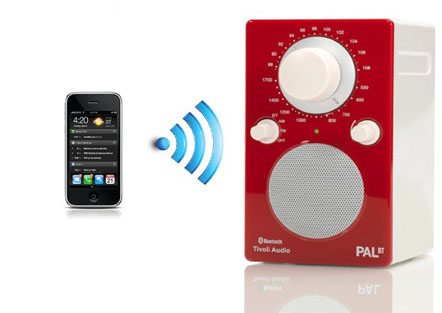 Tivoli Audio has just introduced the new PAL BT radio, now equipped with Bluetooth wireless technology. In addition to listening to your favourite FM/AM radio stations on the go, the PAL BT allows you to listen to your digitally stored music on any Bluetooth compatible device. Once paired, the PAL BT accesses music held on your smart phone, MP3 player, computer, or any other Bluetooth technology-enabled device.
The PAL BT makes it effortless to listen to great sounding music thanks to the Bluetooth wireless technology's advanced A2DP profile, combined with the PAL BT?s trademark sonic equalization. And with the Frequency Hopping Spread Spectrum (FHSS), there is low-to-no noise interference with other wireless devices. The PAL BT is easy to use without any complicated set up required, or need for extra cables. And like the original PAL, the PAL BT is weather-resistant and rechargeable for total portability. It is a great companion for the outdoor patio, porch, waterfront, boat or anywhere in and around the home and workplace.
The PAL BT delivers multiple hours of rechargeable portable power with an environmentally friendly NiMH battery pack that has no memory effect and fully charges in three hours. Despite its compact size of 15.88cm (H) x 9.37cm (W) x 9.86cm (D) and weight of less than one kilogram, it has a minimum nine meter Bluetooth reception range. By switching to the Bluetooth mode, the PAL BT will remember up to eight paired devices, and it also features an auxiliary input, as well as a stereo headphone output.
The PAL BT is available in five striking finishes of Black/White, Blue/White, White/White, Yellow/White, and Red/White.
For more info, please visit www.tivoliaudio.ca