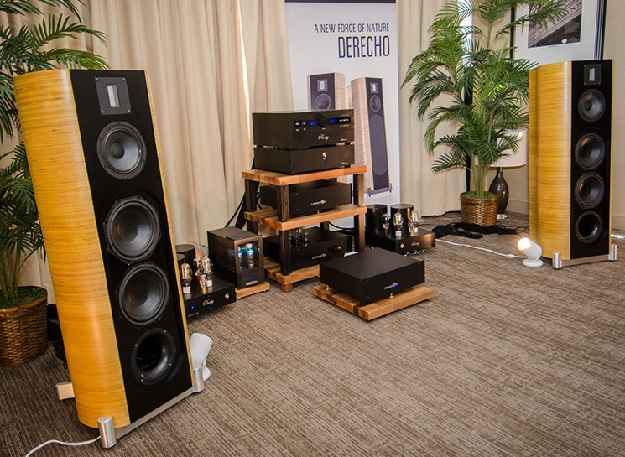 Vapor Audio has just introduced a new loudspeaker to their stable of products – the Derecho loudspeaker. The Derecho was designed to meet the needs for consumers seeking similar capabilities of Vapor Audio's existing Nimbus loudspeaker but with a lower overall weight. The new smaller Derecho does not reach as low as the larger Nimbus; however, with the Derecho design, bass remains full and dynamic. The midrange driver of the Derecho is all new – utilizing a carbon fiber/paper blend cone, and a state of the art neodymium motor system with a thick copper sleeve to reduce inductance and distortion. The tweeter is a RAAL 70-20XR ribbon tweeter.
Utilizing Vapor Audio's own stacked Birch-ply method, the weight of the Derecho was controlled while wall stiffness was achieved. In total, 12 full sheets of Birch Ply are used in the creation of a Derecho cabinet, which takes the shape of the smaller Vapor Audio Cirrus Black loudspeaker. The shape greatly reduced cabinet resonance, zero-diffraction signature, and much lower through-wall sound transmission, resulting in greater transparency.
Drivers Used
RAAL 70-20XR Tweeter
Wide-band 6.5″ carbon/paper cone midrange
8″ high efficiency paper cone woofers x 2
Cabinet Tuning
Front Ported, 42hz tuning frequency
Freq Response
38 – 39,000hz +/-3db, 44 – 27,000 hz +/- 1.5db
Nominal Impedance
4 ohms
Sensitivity
93 db
Recommended Power
10 – 1000 watts via Tube Amp
25 – 1000 watts via Solid State Amp
Weight and Dimensions
125 Pounds
44″ Height x 16″ Deep x 15″ Max Width
Crossover Details
Time aligned shallow slope networks with crossover points of 350hz and 2300hz
The new Vapor Audio Derecho loudspeaker is currently available at a MSRP of: $7,595 U.S./pair, including stands. Look for more details on this product at: http://www.vaporsound.com/speakers/derecho/
Comments are closed.