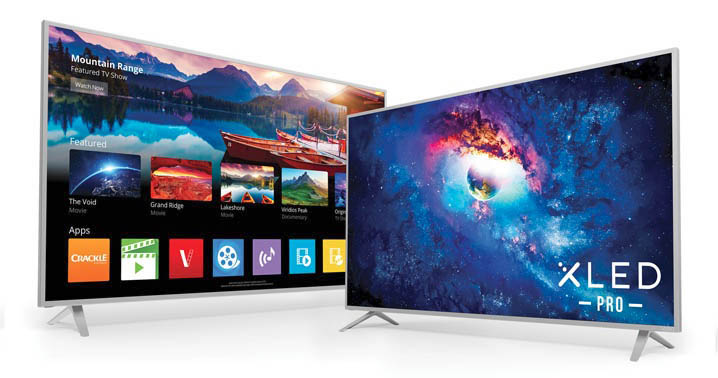 VIZIO has just announced its 2017 VIZIO SmartCast P-Series Ultra HD HDR XLED Pro Display collection. Powered by XLED Pro, VIZIO's most powerful full-array local dimming backlight technology, and XHDR Pro with Dolby Vision and HDR10 content support, the P-Series pushes the boundaries of color, contrast and detail to deliver a more breathtaking picture than ever before. Excellent high dynamic range picture performance is complimented by an intuitive smart streaming experience designed with consumers in mind. Coming this summer, SmartCast TV will enable users to browse featured content and a curated list of apps directly on the big screen with the included remote. For those who prefer to control their entertainment via a mobile device, SmartCast Mobile is an app available for download for iOS and Android that seamlessly transforms mobile devices into powerful touchscreen remotes. And with Chromecast built-in, consuers can stream thousands of apps they know and love straight to their display. The all-new VIZIO SmartCast P-Series Ultra HD HDR XLED Pro Display lineup starts at $1,799 (CAN) for the 55" class size and is available now online and in-store through Costco Canada.
With enriched brightness, XLED Pro full-array local dimming technology delivers some of the industry's best full-white brightness performance to reveal new detail with enhanced shadows and highlights. Consumers interested in a 2017 P-Series will also appreciate a dramatically expanded contrast range complete wth lifelike detail and clarity that redefines the viewing experience, thanks in large part to HDR performance with Dolby Vision and HDR10 content support. Consumers can enjoy the latest blockbuster moves in High Dynamic Range, either streamed to the big screen from supporting apps, or through supported UHD blu-ray players. Viewers will notice the impact of Ultra Color Spectrum, which offers over one billion colors to produce richer, more accurate color detail. For viewers who appreciate rich, inky blacks, the Xtreme Black Engine Pro enables precise backlight control utilizing up to 128 local dimming zones to adapt brightness to the on-screen image and achieve extremely deep black levels. Additionally, Clear Action 960 technology and an ultra-fast 240Hz effective refresh rate achieved with backlight scanning ensures action-packed scenes are smooth, stable and realistic.
As a member of the VIZIO SmartCast collection, every P-Series offers an intuitive smart streaming experience. Available this summer as an over-the-air update to 2016 SmartCast Ultra HD displays and all 2017 SmartCast models, VIZIO is bringing the SmartCast mobile experience to the big screen by making apps accessible directly from the display. The SmartCast TV home screen greets users with content recommendations and favorite apps. Users can easily browse content with their remote before launching TV shows, movies and more, directly from their display with the touch of a button. A revamped out-of-box experience and easy first-time setup helps consumers get their displays up and running. SmartCast Mobile offers yet another way for consumers to access their favorite entertainment. By simply downloading the SmartCast Mobile iOS or Android app, users can turn their mobile devices into the ultimate touchscreen remote where they can search, browse and stream content and control display settings from any room in the house. Apps like Crackle, Pluto TV, Red Bull TV and more have been integrated into VIZIO SmartCast Mobile allowing viewers to easily search and stream shows from their mobile devices to the big screen.
All VIZIO SmartCast displays feature Chromecast built-in which allows viewers to browse thousands of Chromecast-enabled apps – including 4K and HDR content from apps like Netflix – on their mobile devices. By simply tapping the Cast button in Chromecast-enabled apps, or using voice to control their display with the Google Assistant on devices like Google Home, consumers can stream their favorite shows and movies right to the big screen. The Quick Start Mode allows VIZIO users to turn on their displays automatically with a tap of the Cast button. By simply launching a Chromecast-enabled app, users can tap the Cast button and their display will turn on automatically and start streaming the selected entertainment. VIZIO P-Series displays are also compatible with Chromecast Ultra.
The P-Series will be available in the following screen sizes:
2017 VIZIO SmartCast P-Series 55" Ultra HD HDR XLED Pro Display (P55) MSRP $1,799 CAN
2017 VIZIO SmartCast P-Series 65" Ultra HD HDR XLED Pro Display (P65) MSRP $2,999 CAN
2017 VIZIO SmartCast P-Series 75" Ultra HD HDR XLED Pro Display (P75) MSRP $4,999 CAN