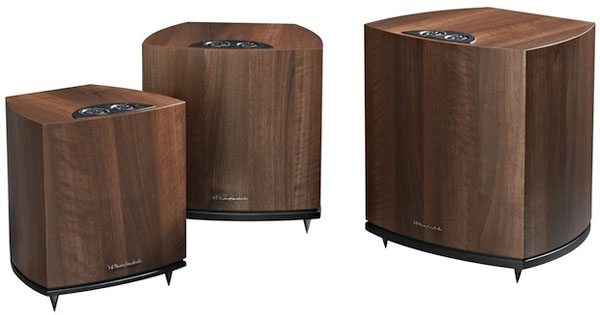 Wharfedale recently announced a new range of subwoofers called the PowerCube Series, a set of three high-performance active subwoofers designed to complement the company's entire speaker range.  Available in three sizes – the SPC-8 with 200mm driver, SPC-10 with 250mm driver and SPC-12 with 300m driver – the range makes choosing your deep bass provider an entirely painless process.
The PowerCube subwoofers? elegant cabinet design is available in seven finishes, so there will always be a version to complement your speaker set-up, while neat touches such as continuously adjustable crossovers mean your PowerCube of choice integrates effortlessly with your main speakers.
Life In The Fast Bass Lane
Detailed and accurate bass performance requires speed and control, which is where the ultra-fast, balance drive Class D power amplifiers featured throughout the PowerCube range come to the fore. The amps inside the SPC-8, SPC-10 and SPC-12 rate at 150W, 200W, and 350W respectively. All three subwoofers also feature Wharfedale?s ?infinite baffle? design, delivering faster, more accurate bass response than ported bass reflex designs.
Down, Down, Deeper and Down
PowerCube subwoofers delve deeper than previous Wharfedale ranges, reaching up to 10Hz lower. The SPC-12 touches 30Hz, with a wide 85dB dynamic range. The downward-firing drivers featured throughout the range are capable of large excursions whilst maintaining exceptionally accurate pistonic movement.   The low pass filter slope can be adjusted from 30Hz to 150Hz, while the steep upper bass roll-off slope produces cleaner bass.
Uncommon Sense
All PowerCube models incorporate an ingenious movement sensor that detects when someone is in close proximity to the subwoofer, automatically illuminating the top-mounted controls. This makes it easier to adjust the settings in dimly lit rooms – ideal for when you wish to make little tweaks, but not hit the lights.
Pricing and Availability
The Wharfedale PowerCube Series is available from August in a choice of seven finishes: Blackwood, Cherry, Rosewood, Walnut, Cool Maple, Winter Maple and Wenge. Suggested retail prices are £249.95 for the SPC-8, £299.95 for the SPC-10 and £499.95 for the SPC-12.
For more info, please contact Canadian distributor Aralex Acoustics www.aralex.com or visit www.wharfedale.co.uk.