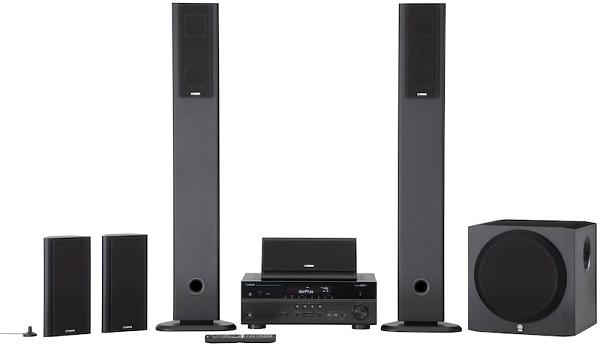 Yamaha just introduced five new home-theater-in-a-box (HTiB) systems with a value focus. All models feature receivers with front panel USB and five high-performance speakers plus 100-watt subwoofers. In addition, the YHT-897BL, YHT-797BL and YHT-597BL include a network receiver with Airplay and free control app for iOS/Android/Kindle Fire smart phones and tablets, as well as direct connectivity to iPads and the company's proprietary CINEMA DSP 3D.
The YHT-897BL, YHT-797BL and YHT-597BL systems feature 5.1 channel network receivers, AirPlay compatibility and Internet radio, as well as, DLNA-certification.
Each of the five HTiB systems provide 4K and 3D video pass-through with Audio Return Channel (ARC).
For easy system operation while viewing movies or television, the systems offer advanced multi-language on-screen displays that overlay onto HD and 3D video signals to depict system control and setup prompts. Data, such as song titles, from connected iPads, iPhones, iPods or USB drives is shown on the receivers' attractive on-screen displays. Connected devices can also charge automatically for later use on the go.
All of the new systems offer a full complement of HD Audio format decoding, including Dolby TrueHD, DTS-HD Master Audio, Dolby Digital Plus and DTS-HD High Resolution Audio. CINEMA DSP 3D (YHT-897BL, YHT-797BL, YHT-597BL) and CINEMA DSP (YHT-497BL and YHT-397BL), with 17 DSP programs, enables users to adjust the listening experience precisely to their preferences. SILENT CINEMA makes it possible to hear large-scale surround sound through ordinary headphones.
Yamaha also integrates its improved YPAO system calibration into its HTiB systems for room correction. Four SCENE Mode buttons automatically power on the appropriate components and make system adjustments for specific entertainment options.
ECO Mode reduces the system's power consumption by 20 percent, with extremely low power consumption in standby mode and Auto Power Down that can be set for 2, 4, 8 or 12 hours.
All systems provide five speakers, with 2-way drivers for high power input capacity, and 100W subwoofers. Subwoofers for the YHT-497BL system and up have Advanced YST designed to provide greater performance. Other model specific features are:
YHT-497BL: five speakers are in a glossy black finish;
YHT-797BL: five trapezoidal shaped equal voice matched speakers;
YHT-897BL: two tower speakers (front), compact center channel & two bookshelf (rear)
Availability and MSRP are as follows:
May-2012:
YHT-897BL @ $849.95 U.S.;
YHT-797BL @ $799.95 U.S. and;
YHT-597BL @ $649.95 U.S.
April-2012:
YHT-497BL @ $479.95 U.S. and;
YHT-397BL @ $449.95 U.S.
For more information see: www.ca.yamaha.com.