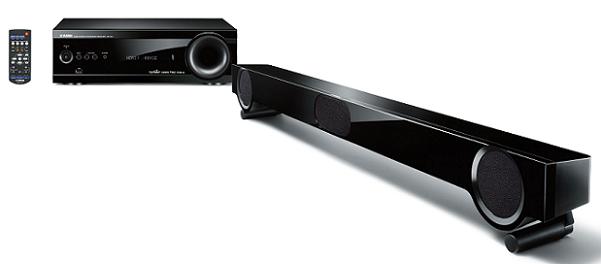 Yamaha, a pioneer in the soundbar category, has just introduced a new soundbar based product; their new YHT-S401 system that provides virtual 7.1 surround sound from two compact, easy-to-place components.
The YHT-S401 consists of an ultra-slim soundbar featuring three 50 watt full range speakers (centre, left and right). This sound bar is matched with a 100 watt subwoofer-integrated receiver that can be oriented either horizontally or vertically for convenient placement.
A mirror black finish and gently curving design define the overall YHT-S401 system. The YHT-S401 system's surround sound bar has adjustable stands that rotate to ensure the exact height is achieved for placement in front of virtually any TV. The stands can also be removed for wall mounting.
Room filling virtual 7.1 surround sound is achieved through the company's proprietary AIR SURROUND XTREME. Six surround modes—Movie, Music, Sports, Game, TV Program and Standard—make it easy for the user to find a listening experience best suited for any type of entertainment content. Yamaha's Clear Voice feature makes dialog and narration easier to hear, enhanced further by the oval center channel speaker which ensures natural sound reproduction with low listening fatigue.
The YHT-S401 offers compatibility with many sources: HDMI (3 in/1 out) supporting 1080p resolution, 3D Video, ARC (Audio Return Channel) and HD Audio formats. A headphone jack enables consumers to enjoy virtual 7.1-channel surround sound from headphones.
For even further enjoyment of music sources, the YHT-S401 also includes a built-in FM tuner, USB connection for iPod/iPhone and a full featured remote control. Yamaha's Music Enhancer technology is provided to enhance the sound of compressed music files (MP3 and AAC, for example).
The YHT-S401 is now available at a MSRP of: $699.95 U.S.
Look for more details at: www.ca.yamaha.com.