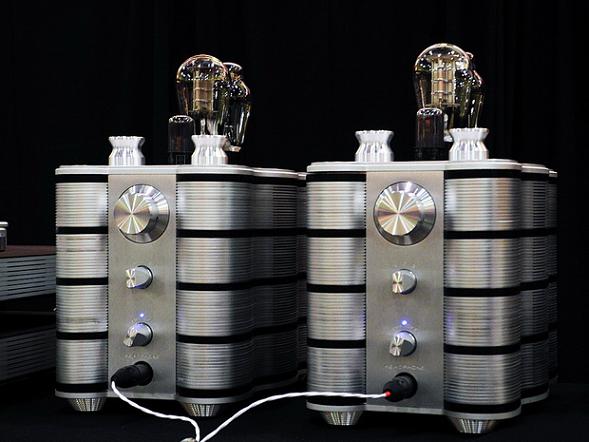 Woo Audio, a company well know to headphone buffs, has just introduced their new flagship tube amplifier, the WA-234 MONO. The new mono-block tube amplifier allows the use of 2A3, 300B, or 45 power tubes, with the simple switch of a key.
Typical tube amplifiers only have a single type of power tube, which can only be substituted with another tube of similar rating. A circuit re-design as well as rewiring are required to use a tube that has a different rating. This is where the WA-234 MONO is different. By inserting different keys into the WA-234 a 2A3, 300B, or 45 tubes can be used with no voltage bias adjustment, rewiring or other parts required.
To switch power tubes or even alternate between headphone and speaker outputs on the amplifier, two types of proprietary switching keys are used: Tube Switching Keys (TSK) and Output Switching Keys (OSK).
In headphone amplifier operation, the Headphone OSK is inserted and the user can then select which tube and corresponding TSK they would like to use. Alternatively, you could choose speaker amplifier operation by substituting the Headphone OSK with the Speaker OSK and then again, selecting your choice of power tube and corresponding TSK. So the WA-234 is essentially both a headphone and speaker amplifier pair with the option of switching power tube in either case. Power tube keys are provided for 2A3, 300B and 45 tubes. Adding to the versatility, there are also different Headphone OSKs for both cathode and plate output to drive both high and low impedance headphones.
Additional features include:
Discrete mono-block, Single-ended, Class-A
Output transformer coupled, EI96 Permalloy core
All triode drive, no semi-conductors.
2A3/300B/45 power tube via Tube Switching Key
Headphone/speaker out via Output Switching Key
Cathode / plate output alternation for headphone
High and low impedance headphone outputs
6SN7 driver, 5U4G rectifier tube
2 RCA and 1 XLR input
3-pin XLR mono output for headphone
Power on plate output 8 watt@300B, 4 watt@2A3, 2 watt@45
Frequency response: 5Hz–62 KHz, -2dB on cathode output
Seiden 46-position stepped attenuator, M-TubeCap, V-Cap
Cursive aluminum casing with CNC machining
Mains supply: 110/220VAC, 50/60Hz
Weight: 60 lbs per channel
The Woo Audio WA-234 amplifier will be offered at an expected MSRP of $10,000 U.S. with availability, yet to be announced. Look for more details at: www.wooaudio.com.