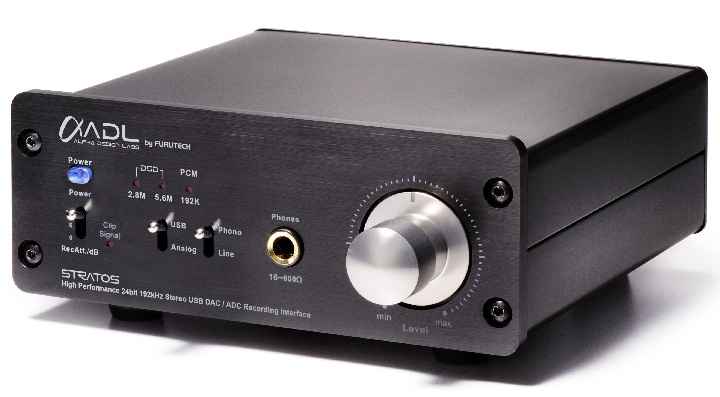 Alpha Design Labs (ADL) has now introduced an all-new product – the STRATOS.  The STRATOS will be positioned above the ADL GT-40 (which will also have some enhancements).  Though it hasn't officially been announced as a replacement model for the ADL ESPRIT (my own reference DAC / headphone amplifier), I expect that this is likely the case, given features and pricing.
Building on the features of the GT-40 the ADL STRATOS brings something new to the table – DSD capability, a first for ADL.  The STRATOS is truly a jack of all trades and quite possibly a master of many, having a built-in preamplifier, phono stage, headphone amplifier, DAC  & ADC (24-bit/192-kHz), as well as DSD functionality (both 2.8M and 5.6M) via USB connection.  S/PDIF optical input and output are also provided.
The STRATOS can thus serve as the hub of a music system and/or a work-horse of a desktop system.  With it you can create pristine digital versions of your LP vinyl albums or get the most out of your headphones with robust amplification and the audiophile quality DAC.
Additional features include L/R analog inputs, switchable line or phono inputs and a controller that supports both ASIO and Asynchronous modes. The STRATOS also uses the finest Furutech RCA sockets to deliver high-quality sonic results.  A clear step-up from the GT40 in performance, the STRATOS, has been reconsidered and rethought using the latest technology and the latest designs.
Features
• 24-bits/192kHz CS4392 High Performance Stereo DSD DAC (2.8M/5.6M)
• VT1736 USB 2.0 High Speed 480Mbps 32-bits/192kHz USB DAC , 44.1/48/88.2/96/176.4/192 KHz
sampling rates supported
• ASIO driver (Windows); Plug'n Play (MAC)
• Powerful Headphone Amplifier MAX9722A (16~600 ohm)
• Line , ADC and DAC OPA : NJM5532 OP Amp
• Analog-to-Digital Converter: The STRATOS sports a high-performance ADC IC (CS5340) chip for high resolution recordings via analog inputs including phono, AM/FM radio, or other analog signals.
• Phono Preamplifier: The STATOS features a phono equalizer for recording your precious LPs. Switch between Moving Magnet (MM) and Moving Coil (MC) or Line input
USB Playback Resolution: 24bit/192KHz (Max)
USB Recording Resolution: 24bit/192KHz (Max)
• Highest Quality Parts: The STRATOS features a high quality amplifier and condenser supporting its high performance analog circuit
• High End Audio Grade Connections: The STRATOS is equipped with gold-plated Furutech RCA jacks with an extremely high quality aluminum chassis and machined volume knob
• Power Supply AC Adaptor Rating: Erp step2 compliant, 2Wire AC Input Type, Class II, AC/DC Switching Adaptor output DC 15V / 0.8A / 12W
• Dimensions: 150 (W) x 141 (D) x 57 (H) mm
• Weight (approximate): 900 grams
The all-new ADL STRATOS is scheduled to be available in October 2014 at a MSRP of $895 in Canada.  Look for more information to soon be made available at: http://www.adl-av.com/