The world's greatest tech show has opened its doors for 2018 in Las Vegas and we are exploring the show floor to bring you the latest news and show highlights. Be sure to tune into the NOVO website daily over the next week as we continue to post updates. Just about every major electronics manufacturer from around the planet (with the exception of Apple) is set to reveal its latest and greatest at this year's show — from the latest TVs, Hi-Fi goodness, computers/tablets, smart home devices, VR/AR headsets, robots, tech toys, wearables and gadgets — just to mention a few categories.
VR at CES 2018
HTC Vive Pro VR Headset and Vive Wireless Adaptor
HTC took the opportunity at this year's CES to introduce a brand new HTC Vive Pro VR Headset, which offers significant upgrades over the existing HTC Vive. The Vive Pro is equipped with dual-OLED displays offering a resolution of 2880 x 1600 pixel combined, a 78% increase in resolution over the current Vive model. This increased resolution enhances immersion, and the improved clarity means text, graphics and overall experience all come into sharper view. Vive Pro also features integrated, high-performance headphones with a built-in amplifier to offer a heightened sense of presence and an overall richer sound. The Vive Pro also features a redesigned headstrap which offers increased comfort. Other improvements include dual microphones with active noise cancellation and dual front-facing cameras designed to empower developer creativity. Available and pricing was not announced yet.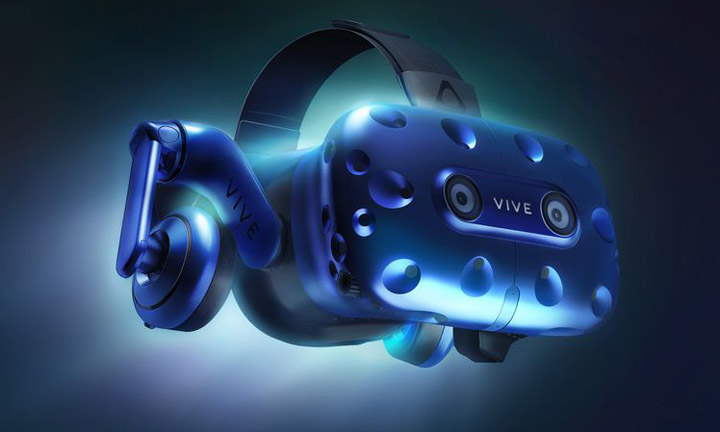 HTC also revealed the Vive Wireless Adaptor at CES, which will enable the use of both the Vive and the Vive Pro VR headsets in a completely wireless fashion. The Vive Wireless Adaptor features Intel's WiGig technology that operates in the interference-free 60Ghz band, which means lower latency and better performance. The Vive Wireless Adaptor will ship in Q3 of 2018.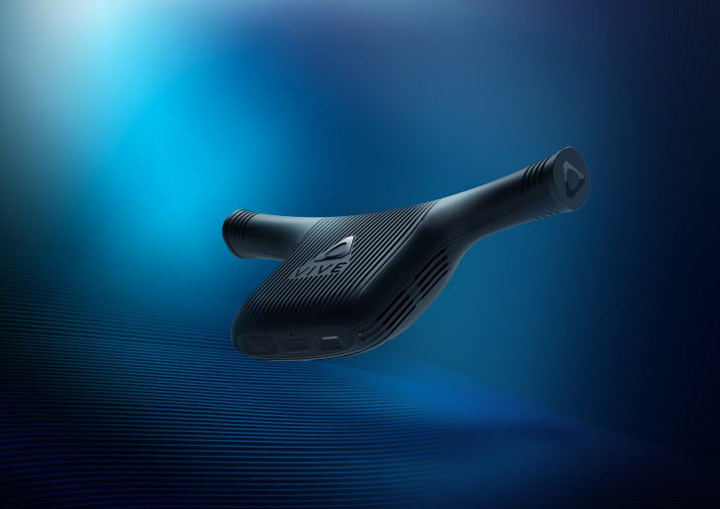 Lenovo Mirage Solo with Daydream VR Headset
The Lenovo Mirage Solo is a first self-contained VR headset based on Google's Daydream platform that will retail for under $400. Instead of relying on a smartphone, it contains all of its own hardware, which includes the Qualcomm Snapdragon 835 VR platform, 4GB of RAM, 64GB of storage (expandable via microSD card) and a battery that lasts 7 hours. Each eye gets a 5.5-inch LCD screen with a resolution of 1280 x 1440 pixels. The Lenovo Mirage Solo supports the same VR experiences as existing Daydream headsets. To further enhance gameplay, you can pair this headset with the wireless Daydream controller, turning it into a virtual baseball bat, steering wheel or whatever fits your chosen app. You can also create your own VR content by pairing the headset with the Lenovo Mirage Camera with Daydream. This pocket-sized point-and-shoot camera captures 3D photos and videos with its dual 13 MP fisheye camera and its 180 x 180° field of view.
ZEISS VR ONE Connect Headset
The ZEISS VR ONE Connect bridges the gap between PC-connected VR gaming and mobile VR by connecting the smartphone in the mobile VR headset to your gaming PC. The product gives mobile VR users more interactive gaming possibilities than ever before by allowing them to play games through SteamVR, an online community that allows access to VR content. It boasts a high-quality VR experience, is compatible with iOS and Android phones and costs just $129 US. The ZEISS VR ONE Connect comes with two wireless 3DoF (degrees of freedom) controllers that are linked to the smartphone via Low Energy (LE) Bluetooth.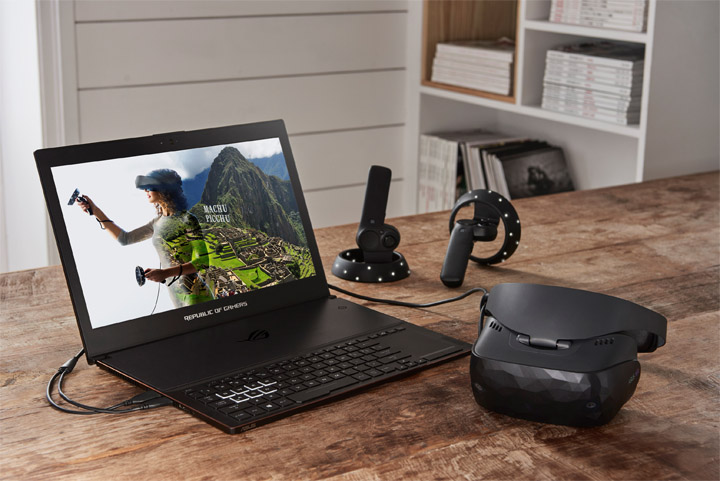 ASUS Windows Mixed Reality Headset
Unlike competitor headsets, this headset doesn't need external sensors, making initial setup very simple. It utilizes two built-in front-facing tracking cameras with six-degrees-of-freedom (6DoF) position tracking, and 32 LED lights on each controller that allow the headset to map a user's environment, and track their movements and controllers seamlessly.  The headset contains multiple sensors — gyroscope, accelerometer and magnetometer — that determine the user's orientation, and thanks to its phenomenal inside-out tracking design, virtual and physical worlds will be perfectly synced, and free of latency or distortion. The ASUS Windows Mixed Reality Headset delivers crystal-clear visuals, thanks to a 3K (2880 x 1440) resolution display and up to a 90Hz refresh rate.  What's more, the headset supports over 20,000 Windows apps and more than 2,000 Steam VR titles, so users can watch immersive 360° videos and play games like never before.  It "flip-able" design allows users to simply lift the visor for a temporary reality check, and flip it back down to instantly immerse themselves in the virtual world again.  At less than 400g, it is said to be ultralight and very comfortable.
Augmented Reality at CES 2018
WayRay NAVION AR Car Navigation System and Holographic AR Infotainment System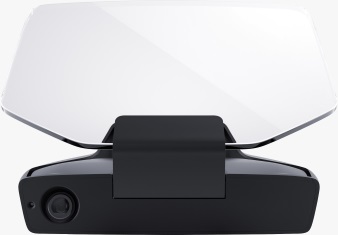 NAVION is the first True Augmented Reality car navigation system. Placed on a dashboard, it shows directions, trip details and display real-time indicators for things like pedestrians, POIs or alerting to hazards exactly where the driver needs them to be — on the road ahead — with no headgear or eyewear required. NAVION is able to work in a hands-free mode to get the driver safely to the destination. It responds to voice commands or hand gestures.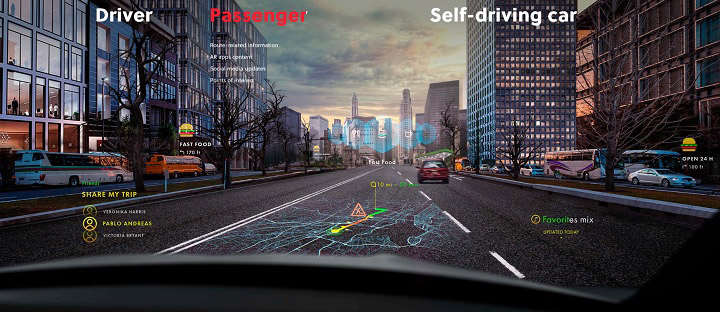 Another WayRay's attraction at CES 2018 is a multicolored Holographic Augmented Reality display device designed to transform the car windshield into a new medium of information. 2018's version has the greatest FOV (field of view) on the market and is capable of multicolored virtual objects creation. Moreover, the technology allows the solution to act like a fully-featured non-wearable augmented reality infotainment system. It shows relevant information at a comfortable distance for users' eyes — from 3 ft to infinity. The company also launched a product named Element, an insightful interactive tracker car tracker for smart driving. It tracks driver's activity at the wheel and overviews the driving performance.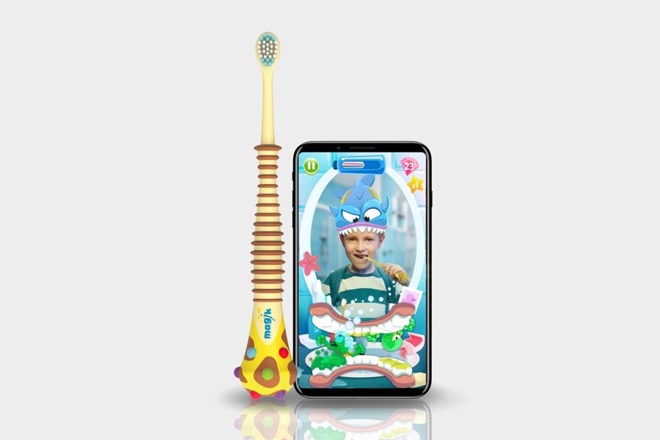 Kolibree Magik AR Toothbrush
Kolibree, a manufacturer of connected oral care solutions launched the Magik toothbrush at CES, a kid's AR-enabled toothbrush that turns any smartphone into a game console for fighting cavities and plaque. Kolibree uses Augmented Reality (AR) to gamify teeth brushing with its interactive toothbrush for children. It uses fun, imaginative filters, sticker packs and more to turn a chore into a magical experience. Magik bridges the gap between oral hygiene and fun by connecting kids toothbrushes to an in-app game through advanced AR technology. Magik's app offers 15 different worlds for kids to immerse themselves in, turning the chore of getting ready for bed into a 'choose your own adventure'.
Robots at CES 2018
Ubtech Walker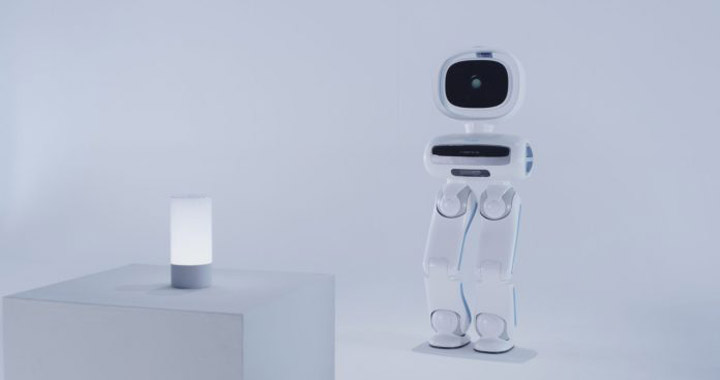 Ubtech showed a number of really cool robots at this year's CES. Among them was the Ubtech Walker, a biped robot designed to serve as your personal butler at home or work. Ubtech plans to add arms to the robot sometime this year, along with additional interactive functions, in order to turn it into a omplete intelligent humanoid robot.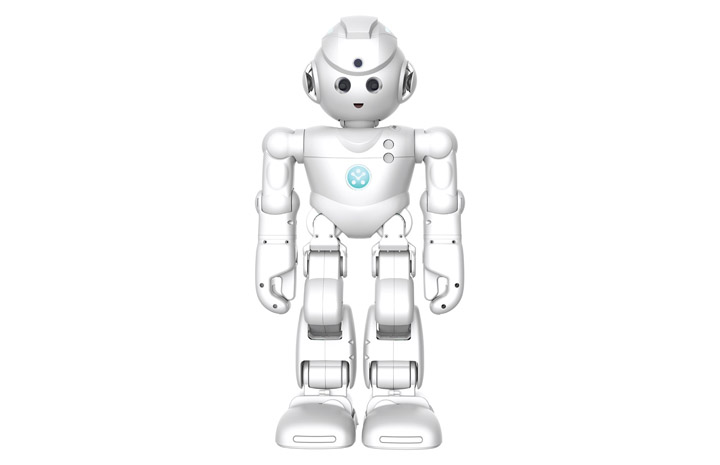 The company also showed off the Ubtech Lynx, its first intelligent humanoid robot to feature Amazon's cloud-based voice service. The Lynx features voice, facial and presence recognition, with key highlights that include a Surveillance Mode and an Avatar Mode. In addition to this Ubtech also demonstrated the Star Wars First Order Stormtrooper Robot (an interactive toy), Cruzr (a could-based AI robot designed for commercial applications) and Jimu Robot (an interactive robotic building block system for kids 8-14).
Honda 3E Concept – Honda Reveals Its Prediction of the Future with Four Robots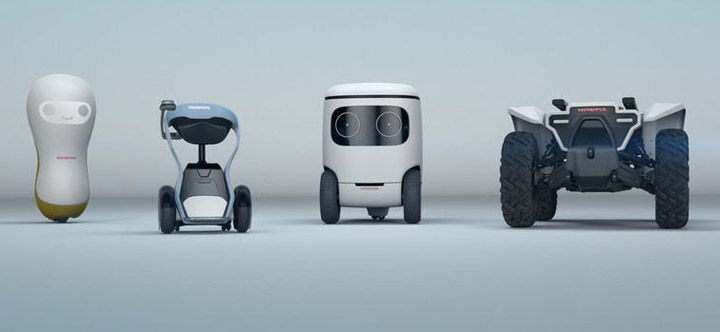 3E stands for Empower, Experience and Empathy – 3 ways in which Honda thinks robots can enhance our lives in the future. All four of these robots are prototypes and although their functionality at this point is pretty vague, they are intended to work independently and in teams.
From left to right (in the above picture): The Honda 3E-A18 is an empathetic robot designed to make an emotional connection between machines and humans. Its face can show emotions, and the robot can recognize and respond to the emotions of a person. It is driven by an omnidirectional wheel and has a soft exterior skin that invites people to touch it. The 3E-B18 is a futuristic vision for the wheelchair, designed for indoor and outdoor use by the disabled or elderly. It is capable of maintaining an upright seat position even when travelling up or downhill. It can also transform into a motorized luggage cart or a stroller thanks to additional attachments. The 3E-C18 looks like a cute cooler on wheels and is designed to carry items, and has a deployable canopy that reveals a flat surface that can be used as a mobile workspace. Thanks to its built-in AI, it can observe people and move autonomously. Lastly, the 3E-D18 is a robot designed to be used by construction crews, firefighters, search and rescue and other professions that require heavy lifting. It has a rail system on the top which can accommodate different types of gear to fit the job. The 3E-D18 is equipped with AI, various sensors and a GPS, which together allow it to operate autonomously even in rough environments.
Sony Aibo Robot Dog
Sony didn't introduce anything particularly exciting at this year's CES, but it did manage to steal the hearts of the media with one product. Sony's robotic dog Aibo is back from 2018 and it's cuter than ever! The original Aibo was introduced some 18 years ago and was prohibitively expensive, so chance are you've probably never seen one. The new Aibo features advanced mechatronics and AI to create a cuter, smarter, and more lifelike robotic pet companion. It's still not cheap at approximately $1,750 US, but at this price point it is certainly more accessible than its predecessor. The new Aibo is outfitted with tiny 1- and 2-axis actuators which enable its body to move along a total of 22 axes. This produces smoother, more natural movements — such as ear and tail wagging, as well as mouth, paw, and body motions. Equipped with two cameras and a multitude of sensors, Aibo is capable of recognizing its owners, as well as analyzing sounds and images. All of this technology allows Aibo to analyze praise, interpret smiles, and respond to petting, which helps to create a bond with its owners, said to grow over time.
LG Cloi Home Robot
This cute little robot is designed to help you control your smart home. Assuming its software can be corrected (the robot failed repeated on the stage during LG's press conference and quickly became mocked on social media), this robot is designed to help with various tasks around your home, such as controlling lighting, security systems, scheduling, looking up recipes and even interacting with LG's washing machine. The future of smart homes is very interesting indeed, although a little glitchy at the same time (at least for now). Think of Cloi as a rolling Google Home. In South Korea, LG already has a range of robots designed for hotels, airports and shopping malls.
Kuri Home Robot
Kuri is another robot we found cruising around the CES show floor this year.  Introduced in 2017, this is one of the coolest robots you can actually purchase today.  Pre-orders from 2017 have just started shipping and the company says that new orders will be shipping in about 2 months.  Often called a social robot, Kuri can recognize faces, answer questions, take pics and videos, play games and roam around your home smartly avoiding obstacles.  Kuri offers a friendly disposition, emotive eyes and can be yours for a reasonable $799 US.  We showcased KURI, along with other home robots, a few months ago in our "Robots to Rock Your World" feature.
Buddy Robot (from Blue Frog)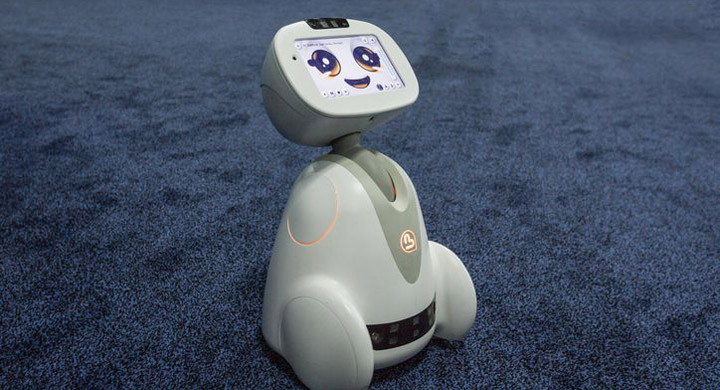 Buddy is another social home robot roaming the CES grounds and available for purchase today.  With an 8-inch tablet-like touchscreen it offers a wide range of adorable expressions that will make your heart melt.  It is packed with technology which includes a camera, ultrasound, infrared and thermal sensors, a range-finder sensor, a temperature sensor and ground detectors.  Buddy is happy to take pics and videos, recommend recipes, testing kids on homework, and even allows you to make video calls via its screen.  We showcased BUDDY, along with other home robots, a few months ago in our "Robots to Rock Your World" feature.
Aeolus Robot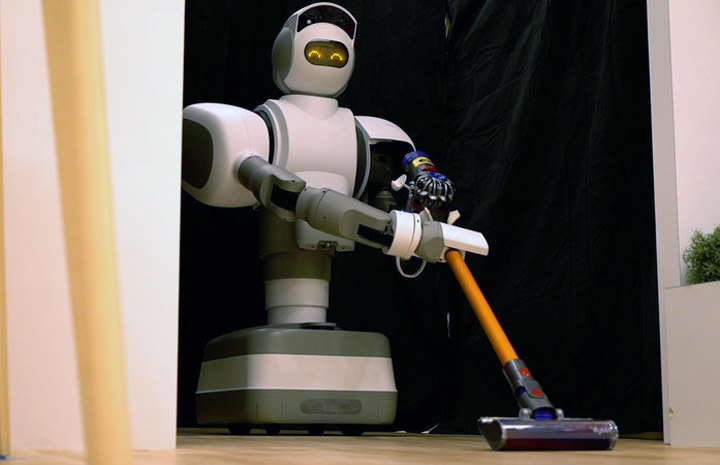 The Aeolus robot looks like a character straight out of The Jetsons and may be the bot we've all been waiting for.  This home robot is powered by artificial intelligence (AI) and machine learning, and comes equipped with an agile arm able to dynamically handle household objects. It can adapt to changing environments and independently learn, navigate and complete household tasks – wow!  The Aeolus robot's advanced sensory and biometric technologies recognizes and differentiates between family members, the physical living space and household items.  It will even lookout for emergencies such as fire or a need to call for assistance.  Just some of the tasks it can do include recognizing thousands of items and putting them away (essentially cleaning your home), locating lost items, and vacuuming or dry mopping floors.  It also offers integration with Amazon Alexa and Google Home.  Perhaps the best news is that it will actually be available for purchase by the end of 2018!
Sophia from Hanson Robotics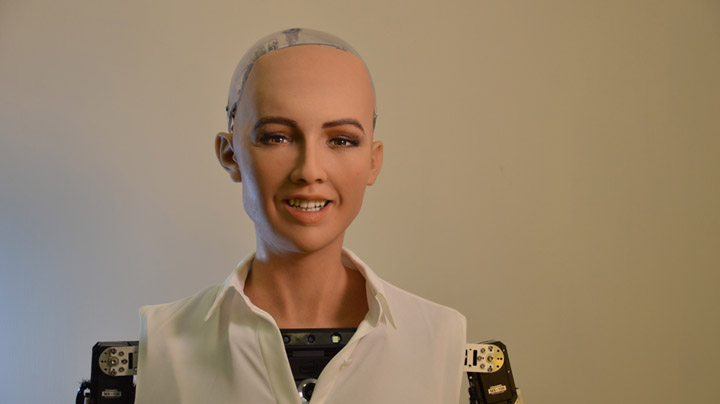 Sophia is an advanced humanoid robot that was showcased at CES interacting with visitors.  She's not a robot you can buy but rather a fantastic demo of where robotics and artificial intelligence is heading.  Sophia has been toured around the world for a couple of years now but she continues to show off new enhancements and features each time she is shown.  Partly powered by Google, she is capable of holding conversations almost like a real person.  One of her latest upgrades are legs so she can move around freely.  It's just a matter of time before this kind of teach trickles down into home bots 🙂
ForwardX CX-1 Autonomous Suitcase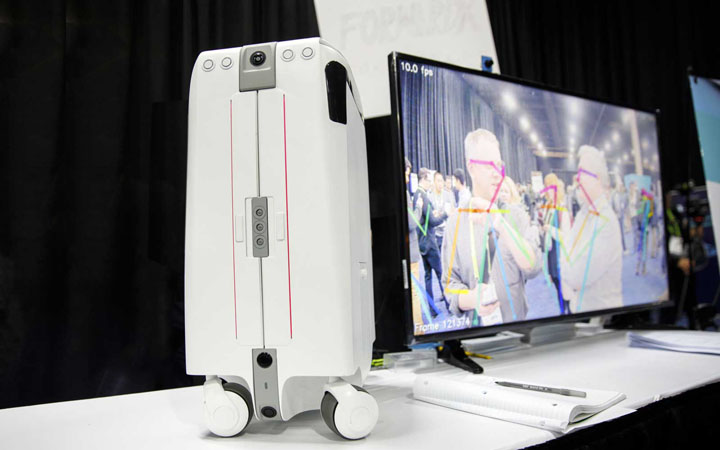 You might be wondering how a suitcase made it on to our robot list but this is no ordinary suitcase. Hauling luggage with your hands is so 2017! The CX-1 is a hands-free, fully autonomous carry-on suitcase that is happy to follow you around the airport and wherever your travels may take you.
Wearables at CES 2018
Mars Earbuds – Earbuds That Translate Conversations in Real-time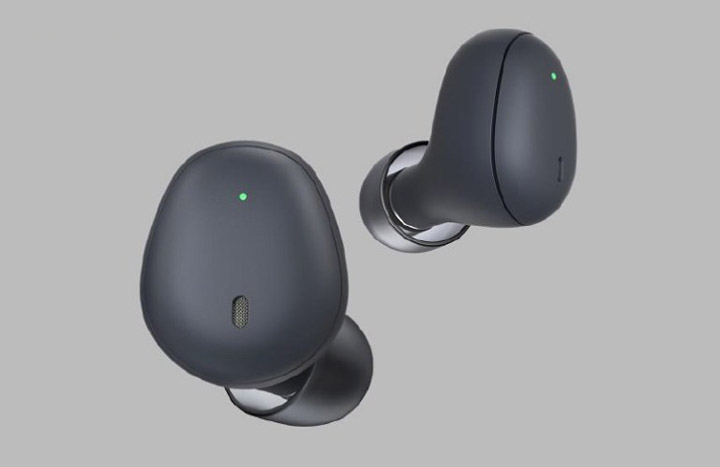 It might be hard to believe that such a product exists but it does indeed! The MARS earbuds are capable of in-ear translation in real-time and support 10 languages, including Korean, English, Japanese, Chinese, Spanish, French, Vietnamese, Thai and Indonesian. Only one pair of earbuds is required, with each person wearing just a single earbud. MARS also features automatic noise-blocking to reduce ambient noise and ensure clear voice recognition even in disruptive environments. With microphones placed "inside" the earpiece, MARS picks up a user's voice directly through the ear canal, blocking outside sounds and providing clear phone calls. Even when used at a noisy location, like a rock concert or on a busy street, the user's voice can be heard cleanly by the earbud microphones.

SOLOS Smart Performance Glasses
This new generation of Kopin Corporation's SOLOS Smart Glasses builds on the original features for cyclists by expanding the ecosystem to empower performance support for runners. SOLOS includes the most advanced Pupil display optics, which enable a 'heads-up' see-through experience with a larger eye box, enabling athletes to safely access their data in real-time. The latest smart glasses offer new audio features including voice control, phone calls, listening to music and group chat communication. For runners, the enhanced software facilitates running metrics such as elapsed time, speed, power, pace, cadence, heart rate and more. Athletes can leverage wearable sensors to measure their run performance, set targets and use the SOLOS platform to track progress on those targets. In addition to performance features, runners can also listen to music, view mobile notifications and even receive audio and visual turn-by-turn instructions. SOLOS will also connect to a variety of training platforms to facilitate real-time workout goal progress prompts and feedback based on athletes' performance targets. Audio and visual cues offer live guidance prompts during training sessions, not only helping athletes train safer, but also enabling them to reach their maximum performance.
Kopin also demonstrated the Elf VR reference design, the world's most compact and lightweight virtual reality headset that boasts stereo 4K resolution at 120Hz refresh rate. Elf is made possible by Kopin's Lightning OLED microdisplays that boast an impressive pixel density of 2,940 PPI – approximately 400% higher than conventional TFT-LCD, OLED and AMOLED displays at 20% of the size. These display capabilities enables Elf VR reference design to eliminate the barriers and limitations that have long stood in the way of delivering an effective VR experience – uncomfortably bulky and heavy headset designs, the annoying pixelated "screen-door effect" due to insufficient display resolution, and frame rates that are too slow for fast action games, movies or sports.
Medical Guardian the Freedom Guardian Medical Alert Watch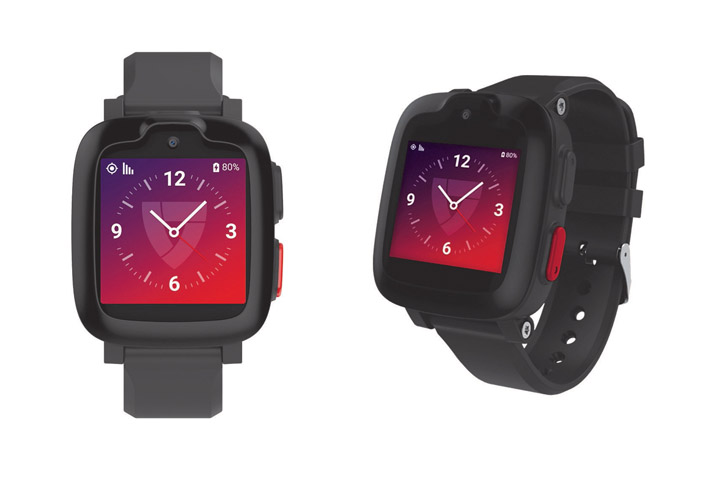 The Freedom Guarding claims to be the industry's most advanced medical alert device. This sophisticated wearable technology is designed to challenge industry stereotypes and revolutionize how older Americans age in place – or on the go. The Freedom Guardian is a discrete, customizable watch designed to blend in while providing round the clock monitoring, support and connectivity. The watch is lightweight and comfortable to wear, and it has a hi-res color touchscreen and oversized icons for ease of use. The device is audible, which is especially important for users whose eyesight may not be as good as it once was. It has the capability to read out the date, time and text messages sent through the Freedom Guardian app by members of the user's care circle. Users can also dictate text messages in return. The Freedom Guardian's safety features include: SOS with Two-Way Communication, GPS and Wi-Fi Location Finder, Voice Messaging and Safe Movement Zones.
MyKronoz ZeTime Petite Hybrid Smartwatch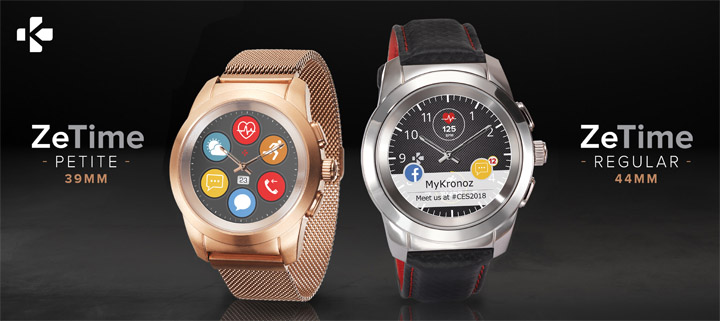 After a crowdfunding campaign that raised over $6 million last year, MyKronoz is showing both ZeTime Petite (39mm) and Regular (44mm) hybrid smartwatches at CES 2018. The world's first hybrid smartwatch with mechanical hands over a color touchscreen, ZeTime offers the classic design of a Swiss timepiece with the most advanced features of a smartwatch. MyKronoz's proprietary 'Smart Movement' technology enables ZeTime's always-on hands to function for up to 30 days with a single charge, ensuring the primary function of the watch – to tell time – is always running. Prices start at $199 US.
Lenovo New Glass C220
This Androiod-based system consists of a Glass Unit and Pocket Unit and works by recognizing and identifying real-life objects using AI technologies. You experience AR through one eye, while keeping the other on the real world. Just download the app and then plug the Pocket Unit into the phone. The New Glass C220 is designed to work in a variety of work and learning scenarios, from gathering information in your field of view, to giving step-by-step directions and instructions for repair, identifying disabled equipment and trouble-shooting issues with a remote colleague all while keeping your hands free.
Continue checking this page during the next week for daily updates, as more news comes out of CES 2018 🙂