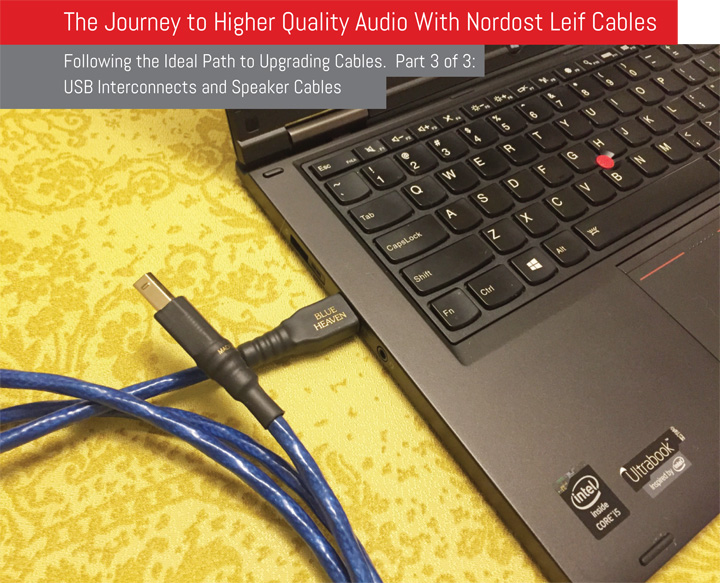 Following the Ideal Path to Upgrading Cables.  Part 3 of 3: USB Interconnects and Speaker Cables
I     recently watched English indie band ALT-J perform at Echo Beach in Toronto and what an incredible sonic and visual experience this was.  Their unique style of singing makes it near impossible to make out any of the lyrics but that didn't prevent me and all the other concert goers from singing along.  The moment ALT-J hit the stage and started playing their first song, the hairs on the back of my head stood up.  I danced the night away with my friends and some 5,000 other ALT-J fans.  It was an unforgettable night that I'll remember for a long time to come.
While it's impossible to fully replicate the performance and atmosphere of a live music show at home or on your headphones, those who truly love music strive to come as close as we possibly can.  Getting there means selecting the most musical audio components you can afford and connecting them with good quality cables that allow the signals to flow between them, without adding or subtracting anything to the sound.
Welcome to part 3 of a 3-part series in which I take you on a step by step journey during which I suggest the best order of upgrading OEM cables and explain what improvements in sound you should hear with each step.  For the purpose of this series I selected the Nordost Leif Blue Heaven range of cables because it delivers tangible benefits, it is attractively priced, and offers excellent value for your money.  If you followed my advice in the previous two issues of NOVO, your music listening experience should have jumped up a couple of levels.  If you missed parts 1 and 2, you can read them on our website at http://novo.press/the-journey-to-higher-quality-audio-with-nordost-leif-cables and http://novo.press/the-journey-to-higher-quality-audio-with-nordost-leif-cables-part-2-of-3.
What order should you upgrade cables in?  The best method is to follow the power / signal path: start with the power cords, then replace the interconnects and last but not least the speaker cables.
In parts 1 and 2 of this article, I upgraded the stock OEM power cords and analogue interconnect cables with the Blue Heaven power cords and interconnects.  These upgrades allowed me to achieve a considerably better sound out of my system.  I was presented with a quieter background; crisper, extended high frequencies; and tighter, more articulate bass frequencies.  The vocals and instruments had an improved presence, while the width and depth of the soundstage increased.  The combined result was a sound that was more natural and musical, a few steps closer to what I'm used to hearing at a live performance.
With the power cords and analogue interconnects upgraded, it was time to turn my attention to the digital USB interconnect and the speaker cables.  To refresh your memory, my test setup included a: ModWright Instruments LS 100 preamp and KWA 100 amp; Jeff Rowland Continuum S2 integrated amp; Raidho C 1.1 speakers; Sonos system; Bryston BDA-1 DAC; and Gold Note Giglio turntable.  While I normally use higher-end Nordost and Skogrand cables with these components, the great thing about using high-end audio gear with entry-level cables is that the gear is so transparent, it allowed me to truly "hear" the performance of the cables.
Think that all USB cables sound the same because they transmit a digital signal?  That's what I used to think as a budding audio enthusiast too.  That is, until I was enlightened by listening to demos at audio shows and trying USB cables in my own system.  The Blue Heaven USB 2.0 digital interconnect cable ($249.99 US, 1 meter, type A to B) sports four conductors, precisely wound, double shielded with carefully chosen dimensions to optimize digital signal transmission.  Nordost's proprietary FEP and Micro Mono-Filament construction ensure low dielectric loss, while minimizing cable induced timing errors – something that is essential for good quality digital playback.
With the Blue Heaven USB cable in place, between my laptop and the DAC, I was rewarded with a further lowered noise floor, which resulted in a wider soundstage, with more precise positioning.  This improvement was most noticeable with well recorded acoustic albums, jazz and classical music.  The ability of a music system to paint an expansive soundstage is a characteristic that I place a lot of value on, because a system's ability to properly resolve the instruments and vocals within a soundstage can go a long way to making recordings sound closer to live performances.  Another couple of benefits I heard from the upgraded USB cable, were increased texture and a more natural decay in vocals and instruments.  Thanks to these, both instruments and vocals sounded closer to what you expect to hear in real life, deepening the music listening experience.
For the final stage in the cable upgrade journey, I upgraded the standard "spool" speaker wires in the test system to the Blue Heaven speaker cables ($734.99 US, 2 meter pair, banana plugs).  The flat profile of these cables isn't just for looks, this design is Nordost's answer to low resistance, capacitance and inductance, which are common limiting factors of traditional speaker cable designs. This cable's geometry and conductor spacing reduces dielectric effects, which in turn allows them to achieve a greater dynamic response, phase accuracy and detail when playing music.