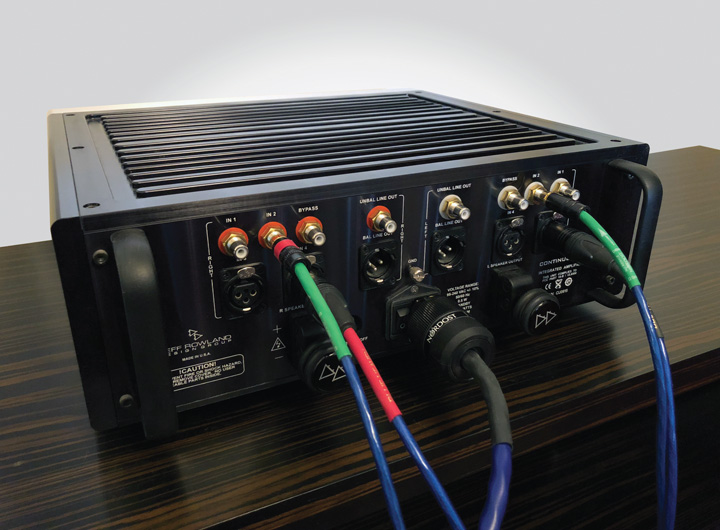 Following the Ideal Path to Upgrading Cables.  Part 1 of 3: Power Cords
Let me tell you a little secret about building a high-end music system: Cables play a much more important role in your hi-fi system than you might realize. Cables are the "fabric" that connect each of your components to the power grid. Cables also connect all of your components and loudspeakers together. If you think about it, there are more cables in your system than hi-fi components actually. Welcome to part 1 of a 3-part series in which I'll suggest on how to improve the performance of your music system by upgrading the cables in an order that will offer you the best bang for your buck.
As hi-fi manufacturers continue to push the limits of performance of electronics and loudspeakers, we are presented with gear that sounds more transparent and increasingly more musical. However if you'd like to extract the full performance of your hi-fi gear, using low quality cables just won't get the job done. You wouldn't install economy, no-name tires on a Porsche 911, would you? Of course you could still cruise in your sports car, but you'd never be able to push it to its full potential. Well, the same applies to hi-fi systems and cables. Phil Gold wrote an insightful article on this topic entitled "Why Do We Need Better Cables? Continued Innovation In Audio Equipment Drives the Need For Higher Quality Cables". I invite you to give it a read.
If you decide to upgrade the cables in your hi-fi system, you might ask yourself, where do I start? How much money do I spend on cables? Most experts suggest following the flow of the power / signal path – from the power outlet to your components and then to your speakers. This means you would start by upgrading the power cords, then the interconnect cables and finish with the speaker cables. In terms of budget, audiophiles usually devote somewhere between 10 and 20 percent of the total system budget to cabling.
But let's face it, not everyone has money oozing out of their wallet, and therefore the option to upgrade all the cables in your system at once may not be on the table. So does it makes sense to upgrade cables incrementally? The answer is 'yes, absolutely', in fact that's how most consumers achieve their dream of building a high-end music system.
In this article, I will take you on a journey of upgrading cables and share my experience as to how each incremental upgrade in the audio chain influences the sound of the music system. I have selected Nordost's Leif series of cables, Blue Heaven, for the purpose of this article because this series is easily attainable by every music lover and offers excellent value for the money. This journey also takes me back down a road I first travelled some 12 years ago, when I tried Nordost cables in my own system for the first time. The Leif series may be considered "entry-level" but don't be fooled, the Scandinavian name Leif means "descendant" and is perfectly suited for these cables since they offer much of the technology found in the Nordost's higher-end cables. Fun fact: each Nordost cable series sports a funky name inspired by Norse Mythology.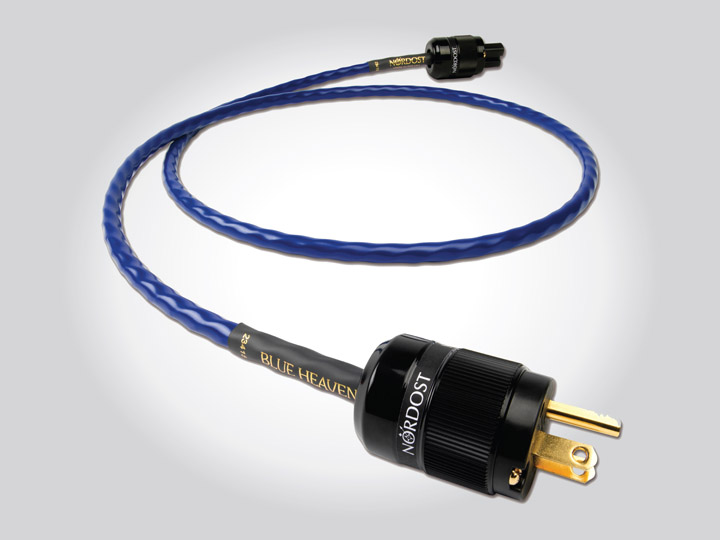 For technically inclined readers, the Blue Heaven power cords sport cutting-edge technology that includes proprietary Fluorinated Ethylene Propylene (FEP) insulation combined with a high-speed, low-loss Micro Mono-Filament construction, designed to achieve a high level of performance out of your system. Inside the cable jacket, you'll find three, 16 AWG cores (99.9999% OFC), each comprised of 65 strands. If you'd like to learn about the materials and construction of these cables, check out www.nordost.com – you'll find a remarkable amount of information there. Rather than repeating all of this information here, I'll focus on what really matters – the music.
Following the upgrade path suggested above, I started by swapping the OEM power cords feeding power to my components with the Nordost's Blue Heaven power cord ($313.99 US/2m). Clean power in an audio system is critical because AC power is what an audio system "shapes" into the sonic frequencies that we hear as music. If you're upgrading multiple power cords, I suggest doing so in the following order: power distribution bar, amp, preamp, DAC and source. My music selection jumped around with the oomph of a teenager after chugging an energy drink, ranging from rock to alternative, acoustic recordings, hip hop and top 40. The grownup side of me also spun up some classical recordings for good measure. My test gear included: a ModWright Instruments LS 100 preamp and KWA 100 amp; Jeff Rowland Continuum S2 integrated amp; Raidho C 1.1 speakers; Sonos system; Bryston BDA-1 DAC; and Gold Note Giglio turntable.
With the Nordost Blue Heaven power cord connected to the amplifier, I was immediately rewarded with a lower noise floor and an improved sonic experience. The track "La Femme D'Argent" from Air's "Moon Safari" album played with crisper, more extended high frequencies, which were also slightly more pronounced. The picked guitar strings at the beginning of "The Grand Optimist" from City and Colour's "Little Hell" album sounded sharper and more delineated, without sounding over-etched or harsh. On the opposite side of the spectrum, there was less bloom around the bass notes, making them sound tighter and better articulated. Florence + the Machine's "MTV Unplugged" album sounded remarkably musical and filled with emotion. This album took me back couple of summers when I saw Florence Welch live at the Molson Amphitheatre in Toronto. With the upgraded power cords in place, her voice sang with an improved presence, revealing finer subtleties. The soundstage also expanded a little in both width and depth. This painted a sonic landscape where the instruments and vocals were further apart from each other, closer to how you would hear them in real life.
Did I get 314 bucks worth of improvement? Abso-freaking-lutely. There's no question that as far as cables go, power cables play a fundamental role in the performance of an audio system. Even an affordable cable like the Nordost Blue Heaven power cord can make a significant contribution to improving your music listening experience. Join me for part 2 of this article as I continue my upgrade journey by integrating interconnect cables (both analog and digital) into my system in the next issue of NOVO. Until then, enjoy your music my friends!
CLICK HERE to read Part 2 of this article.