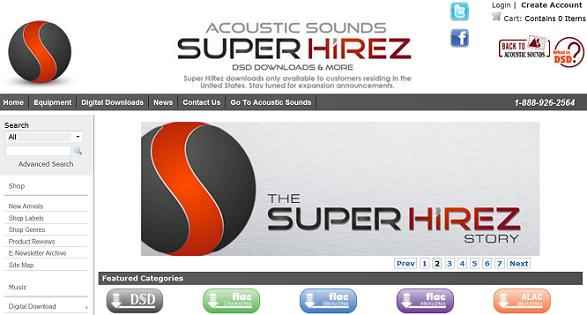 Acoustic Sounds Inc. just announced their new Acoustic Sounds Super HiRez service.  The new service provides consumers with an MP3 / low-rez digital format alternative, while answering the needs of audiophiles seeking resolution levels closer to those attainable through vinyl LP or SACD.
Acoustic Sounds will offer Direct Stream Digital (DSD) technology, which provides 64 times the resolution of audio CDs and a much more life-like quality than MP3 tracks.  While Acoustic Sounds offers music in several formats, uncompressed DSD technology is as close to the master recording as possible – reduced distortion and higher dynamic range.
The initial DSD albums will include: 
August and Everything After by Counting Crows;
Come Away with Me by Norah Jones;
A Love Supreme by John Coltrane;
Tea for the Tillerman by Cat Stevens;
Patsy Cline's Greatest Hits; and other.
A GUI front end will allow users to easily access titles and navigate selections.  A detailed, yet simple-to-use tutorial is available on the website.  High-resolution content in DSD is compatible for download with any PC or Mac computer from the website.  
High-resolution albums are now available at prices starting at $24.99 U.S.  Look fore more information at: www.superhirez.com or www.acousticsounds.com.