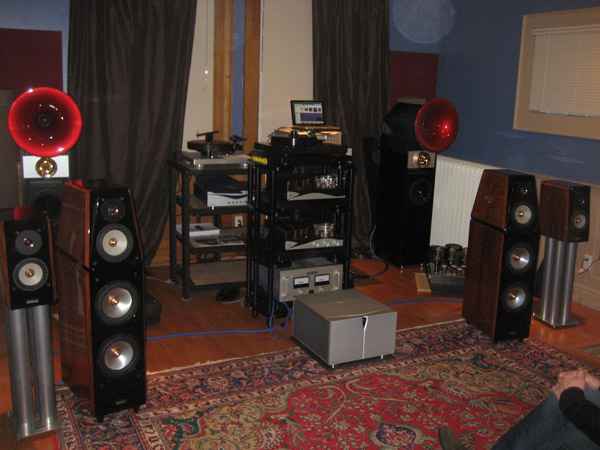 Last Thursday, February 28th, the first-in-a-series event was held at Angie's Audio Corner in Richmond Hill, Ontario.  The purpose of the event was to engage those passionate about music in an intimate, laid-back atmosphere through product demonstrations and live entertainment.  It also presented a wonderful opportunity for visitors to explore the vast number of audio brands and products, set up in many different rooms inside this house-converted-to-store setting.  The event was open to everyone – customers, trade professionals and media.  And if you missed it, don't worry, Angie's Audio Corner will be hosting these types of events regularly in the near future.
The evening began with a presentation by Jeff Joseph, Owner and Chief Designer of US-based Joseph Audio (www.josephaudio.com).  Joseph played a few songs for the audience on the Pulsar bookshelf speaker ($7,200) and the Pearl2 flagship floorstanding model ($28,000).  The electronics in the system consisted of the Zesto Audio Leno Tube Preamplifier and the Audia Flight STRUMENTO N°4 stereo power amplifier.  The music source was an Apple laptop fed through a Jeff Rowland Aeris DAC. The Pulsar bookshelf impressed the crowd with its rich, uncoloured sound and deeper than expected bass.  Both speakers offered a detailed, accurate sound, while delivering a great, three-dimensional soundstage.  During the brief comparison it was very clear that the Pearl2 produced a more dynamic sound, with a richer frequency response, especially in the bass region.  Joseph gladly answered questions from the audience at the end of the presentation and was available for in-depth chats for the rest of the evening.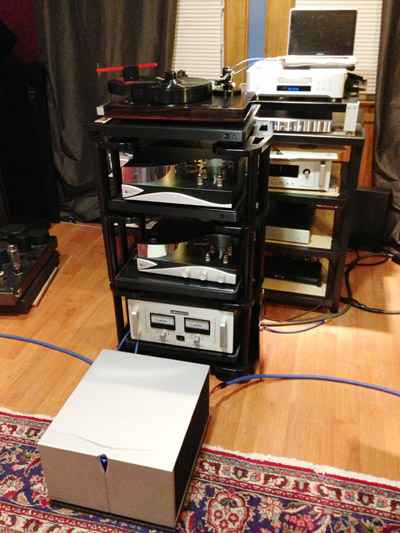 Following this I had chance to chat with Vince Scalzitti, owner of Tri-cell Enterprises (a Canadian distributor of many fine audio brands from around the world), who offered more details about the other components on the audio rack used above by Joseph.  Scalzitti introduced a couple of new products at the event from a company called Zesto Audio (www.zestoaudio.com) – the Leno Tube Preamplifier ($7,500) and the Andros PS 1 Tube Phono Stage ($4,300).  Zesto Audio products are designed and manufactured in California by a gentleman named George Counnas, who has worked with many famous music artists over the years.  The sound of these components was remarkably rich, offering that beloved warmth of tubes.  Connected to the Andros PS 1 phono stage was a Brinkmann Audio Oasis direct-drive turntable ($11,000) with the company's 10.5 tonearm ($5,500 approx.) and the Pi cartridge ($2,200 approx).  All of the above mentioned components were housed on an HRS SXR modular rack system that can be assembled with as many shelves as you prefer, and can also be made into a double-wide configuration.  Three different types of rack shelves ($1,200 to $2,000) can be used with this rack, each offering an increased level of resonance control.  Scalzitti mentioned that HRS will soon be introducing a new, much more affordable rack system which will retail for about one-third of the price of the rack on display.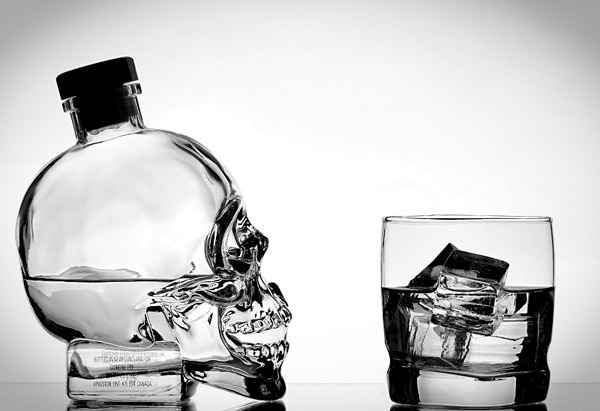 It would be a shame not to mention that throughout the evening, the staff of Angie's Audio Corner also kept us well entertained with finger foods and cocktails.  Among the food items to snack on were some amazing home-made sliders, chicken wings, meat balls, cheeses and veggies.  There were also several types of red and white wines.  But perhaps the biggest surprise for me was to see a bottle of Dan Aykroyd's Crystal Head Vodka, a vodka I've been a huge fan of since I discovered it a couple of years ago.  The clear, skull-shaped bottle is hard to miss in any bar setup.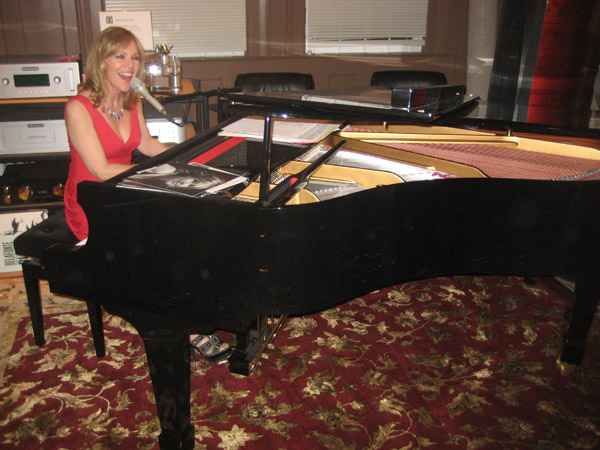 After some 30 minutes of schmoozing with other guests who attended the event, Canadian jazz artist Anne Bisson (www.annebisson.com) performed one of two live sets.  It was a great pleasure to listen to her play the piano and sing songs in such an intimate setting.  Her silky voice and pleasing melodies were sheer pleasure to our ears.  After the performance, Bisson offered a few of her albums for purchase in various formats, including vinyl, CD and USB card.  I picked up her "Blue Mind" album on USB card, which she kindly autographed for me.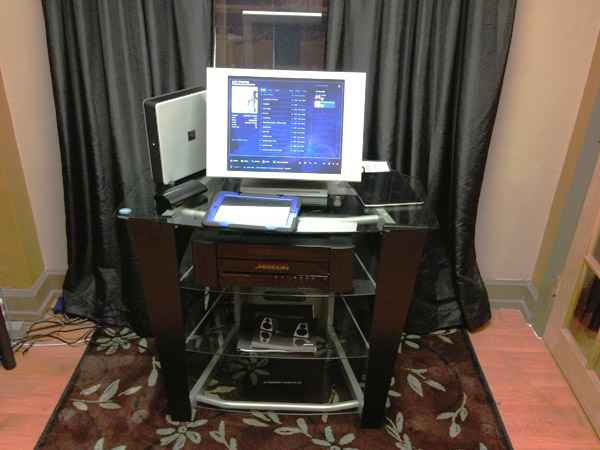 During the evening, James Drew and John Bartkowiak were also demonstrating several Meridian Audio (www.meridian-audio.com) offerings including digital multi-room audio components, loudspeakers and a portable DAC.  First I got a chance to check out the Control 15, a digital music centre designed to be the hub of a digital music playback system or a multi-room audio system.  This sleek device looks like a computer monitor and manages to pack all of its technology into its stand.  While the 17-inch touchscreen interface is its most obvious feature, the stand houses a 500 GB hard drive capable of storing about 1000 albums in the lossless FLAC format, a CD drive for ripping discs and a full suite of Meridian's DSP technologies.  The Control 15 allows you to control playback by tapping and swiping the screen, while showing you album cover art, information about the artists and even album reviews.  When connected to your home network, it also lets you listen to thousands of internet radio stations and access to Rhapsody.  If you'd like to expand the digital music system into other rooms in your home, Meridian offers the Media Source 600 and 200 components just for this purpose.  Like other systems of their type, all of these devices can be controlled by your iPhone, iPod or iPad.  An Android app is currently in the works. There is no question that the Meridian digital music components allow you to interact, control and enjoy your music it in an entirely new way.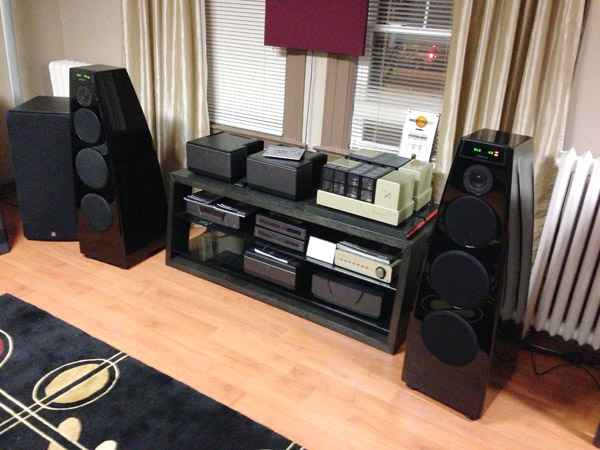 As you might imagine, Meridian would like you to pair its digital music devices with the company's own digital active loudspeakers.  Several different loudspeaker models comprise Meridian's line-up, each with its own amplification and DSP built-in.  This allows each model to achieve the very best sound since the amplifiers and the DSP are fine-tuned to perfectly match the speaker drivers, tweeters and the enclosure.  I had a brief chance to listen to the DSP7200 loudspeaker and was completely amazed with its quality of sound.  Last, but certainly not least, I got a chance to listen to Meridian's Explorer USB DAC at the end of the evening.  This little device is compact enough to keep permanently in your laptop bag, yet powerful enough to significantly improve the sound of your digital music when you connect your laptop to any music system.  It can of course be connected to any desktop computer as well.  A quick demo showed just how effective the Explorer was.  When connected to the laptop, the sound gained a great amount of detail, while the soundstage opened up in width and depth.  This is certainly a very worthwhile investment.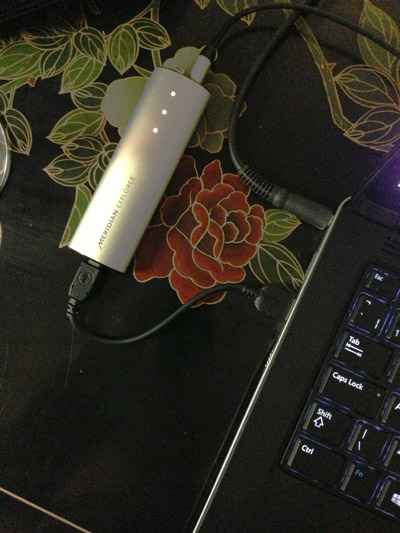 If you didn't get a chance to attend this event last week, you can of course audition any of these components at Angie's Audio Corner at anytime.  The store is located at 12261 Yonge Street, Richmond Hill, ON, L4E 3M7 (near Yonge St and Stouffville Rd).
Click here to learn more about Angie's Audio Corner