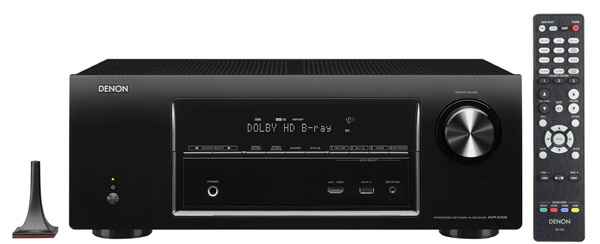 Denon has just launched its new E-Series entry-level AV receivers, which include the AVR-E400 7.1 Channel Network Home Theater Receiver ($649), AVR-E300 5.1 Channel Network Home Theater Receiver ($449), and AVR-E200 5.1 Channel Home Theater Receiver ($299). All three models promise cutting edge performance and features to those with smaller budgets.  All E-Series receivers feature Denon's new color-coded speaker terminals and supplied matching color cable tags to ensure correct speaker cable hookup right out of the box. For even more setup simplicity, Models AVR-E400 and AVR-E300 both feature Denon's new Easy-Connects "push-in" type speaker wire connections making the sometimes difficult task of connecting speaker wires easier than ever before. The simplified remote control features discrete source selection buttons that let users choose their preferred source with the touch of one button (no need to toggle through all the inputs to get to a preferred source component).
 7.1 Network Home Theater Receiver
Owners can configure the AVR-E400 for a full 7.1-channel system, or choose to have a 5.1 channel system in the main room and connect a pair of stereo speakers located in another room so others can enjoy great stereo sound from a different source. For total system connectivity, the AVR-E400 is equipped with 6 HDMI inputs including 5 on the rear panel along with 1 on the front panel, which lets users connect an HDMI-equipped camcorder, game console or other portable multimedia device.  The AVR-E400's sophisticated video processor includes SD-to-HD up-conversion, along with 4K Ultra HD (3840×2160) for the next generation of 4K Ultra HDTVs. A hallmark of Denon's legendary sound quality is the use of identical power amp circuitry for all channels, including an all-discrete power amplifier output stage design. Rated at a maximum of 185 watts for each of the 7 channels, the AVR-E400 provides high power and wide dynamic range with low distortion for a superb surround sound listening experience. All three E Series receivers feature this unique Denon power amp circuitry and design.
Denon AVR-E300
Denon's new AVR-E300 receiver is rated at a maximum of 175 watts for each of its 5 channels, and is equipped with 5 HDMI inputs including 4 on the rear panel along with 1 on the front panel, which lets users quickly and easily connect your HDMI-equipped camcorder, smartphone or other portable multimedia device. Thanks to the AVR-E300's HDMI Standby Pass-through (featured on all E-Series units), users can enjoy a program from either cable or their satellite tuner without the need to even turn the receiver on, which is ideal for casual viewing of newscasts and other programming. And with their built-in USB ports, both the AVR-E300 and AVR-E400 support digital music playback and charging from an iPod, iPhone, iPad, or USB device.
Denon AVR-E200
Rated at a maximum of 165 watts for each of its 5 channels, the affordable, entry level AVR-E200 A/V Receiver delivers thrilling 5.1 channel surround, featuring the latest Dolby and DTS high definition surround sound decoding that lets users enjoy the ultimate surround sound experience with DVD and Blu-ray movies and concerts. The HDMI 5.1 Receiver also features Denon's easy to use Quick Select function, which provides 4 Quick Select buttons on the front panel and on the remote control that let you instantly choose from the Cable/Satellite, Blu-ray, Game and Aux inputs. For total flexibility, users can customize the audio parameters for each source one with their preferred sound setting. The AVR-E200 is equipped with 4 HDMI inputs, including 3 on the rear panel and 1 on the front panel.
For more info, please visit http://usa.denon.com