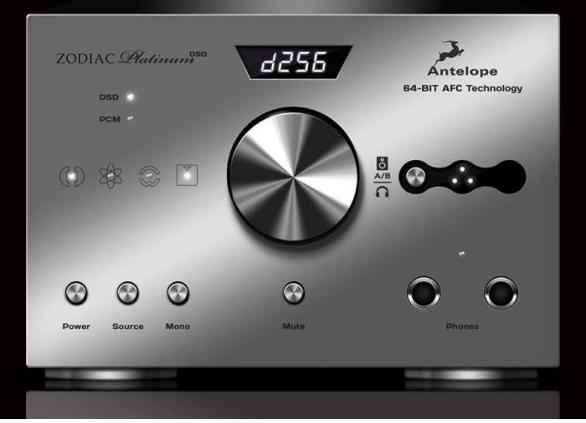 Antelope Audio has announced that it will introduce their Zodiac Platinum DAC at the T.H.E Show Newport between May 31 and June 2, 2013.  The Zodiac Platinum offer the widest DSD support, with 256X mode and a sample rate of 768 kHz via a proprietary USB chip.
The new extreme DSD256 extends accuracy and transparency, while the custom-designed Antelope USB chip reduces clock jitter with sample rates four times higher than commonly available.
Antelope Audio claims that the Platinum is the first device to offer a DSD upsampler that allows upsampling of DSD64 to DSD256, improving conversion and reducing audible noise.  The Platinum bypasses internal digital filters built into the DAC chip for greater fidelity.
The new Platinum utilizes 64-bit Acoustically Focused Clocking with a ultra-low jitter oven-controlled crystal oscillator – Antelope's recipe for the highest performance.  The Platinum is also equipped with a 10 MHz input for Antelope's 10M Rubidium atomic clock, that provides the ultimate in clocking stability and accuracy for D/A conversion.
Zodiac Platinum inherits a stepped relay volume control and the dual stage headphone drivers with impedance control from the Zodiac Gold.  The remote control has option for the external audiophile grade power supply Voltikus. Along with PC and Mac control panels the Platinum offers a mobile application, available for Android and iOS.
The new Platinum DAC shoud be available in July 2013 at a MSRP of $4,895 U.S.  The bundle with Voltikus PSU will be $5,495 U.S.
Zodiac Platinum Features:
• Antelope 64-bit Acoustically Focused Clocking (AFC) technology
• 10MHz input for Antelope's Rubidium atomic clock
• Widest DSD support, including the unique 256X mode
• Ultra-low jitter oven-controlled crystal oscillator
• Up to 768 kHz sample rate via custom USB chip
• Switchable 64-bit 8x linear phase upsampler
• Quad DAC architecture for superb dynamic range
• Stepped relay volume control accurate to 0.05 dB
• External audiophile-grade power supply option
• Dual stage headphone drivers with impedance control
• Analog inputs for true preamplifier functionality
• Re-clocked and de-jittered digital audio output
• Aluminum unibody IR remote
• Control application for PC, Mac and mobile devices
• Automatic internet-based device upgradability
Analog Inputs:
1x Balanced Analog Inputs on 1/4" TRS
1x Unbalanced Analog Inputs on RCA
Analog Outputs:
2x Headphone outputs on 1/4" TRS
1x Trimmable balanced output on XLR
1x Unbalanced output on RCA
Digital Inputs:
2x S/PDIF coaxial inputs
2x optical TOSLINK inputs
1x AES/EBU input
USB on standard B type connector
Atomic / Word Clock Input
Digital Outputs:
1x De-jittered AES/EBU Output
2x De-jittered S/PDIF Outputs
Look for more details at: www.antelopeaudio.com.