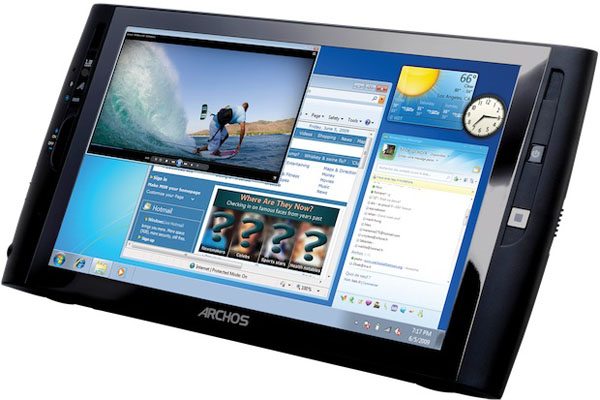 ARCHOS has just announced a new, improved version of its ARCHOS 9 PC tablet, originally the first Windows 7 PC tablet on the market. With a 32 GB Solid-Slate Drive (SSD) and upgraded Intel Atom processor (1.2 GHz), the ARCHOS 9 offers all the productivity and communications features of a Windows netbook together with high-quality multimedia playback and the touch-screen user experience of a tablet.
With Windows 7 Starter, users have access to Windows, Live Essentials to install and download popular Microsoft programs such as Live Mail, Live Messenger, Movie Maker and a photo editor. Windows 7 also includes desktop gadgets providing live news and weather information. There's easy access to Facebook and Twitter via the browser, desktop gadgets or dedicated apps, plus a 1.3 Megapixel webcam for video chat via Skype or Live Messenger.
With ARCHOS' heritage in portable video players, the ARCHOS 9 provides the same, high-quality multimedia experience that users have come to expect from ARCHOS products. The 9'', high resolution
screen supports HD video playback up to 1080p and is backed by integrated stereo speakers. While, as a true PC, users can connect to and share content between digital cameras, external hard drives and other USB Plug and Play devices.
Weighing less than 800 grams, the ARCHOS 9 is highly portable and designed for work and entertainment on the go. An integrated kickstand offers two positions, one for typing and web browsing and one for multimedia playback or video-chat.
The ARCHOS 9 will be priced at $499 US.
For more info, please visit www.archos.com.