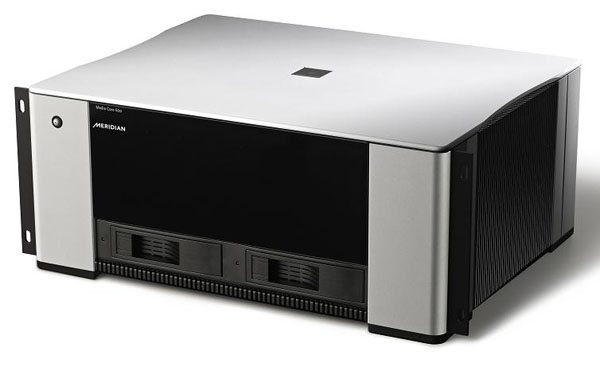 Sometimes, in reading announcements, I think the products might better fit in a show such as "Lifestyles of the Rich and Famous" but there's always the hope that that what's unapproachable today will be affordable tomorrow.
Such is the case with Meridian Audio's announcement of their all-new Media Core 600 Sooloos Digital Media System. The Meridian Media Core 600 allows the owner to create a lossless library of audio / video files. The new Media Core 600 provides system core, storage, and multi-zone rendering, which makes it virtually complete as a functioning Meridian Sooloos multi-zone system.
The Media Core 600 contains the most powerful Sooloos system core introduced – with a pair of 2TB hard disk drives configured as a RAID 1 array, Media Core 600 provides enough primary storage for around 5000 CD albums, while creating a mirror back-up copy.
The Media Core 600 has six audio end-points, each with a host of high quality audio outputs enabling easy connection. The Media Core 600 incorporates an advanced switch-mode power supply and highly efficient cooling system for easy and reliable rack installations.
The Meridian Audio Core 600 Sooloos Digital Media System is now available at a MSRP of $12,000 U.S.
Look for more details at: http://www.meridian-audio.com