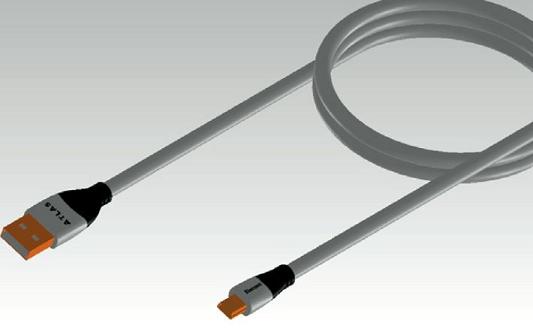 Atlas Cables, in response to customer demand and leveraging the R&D performed to create their Element High Speed HDMI cable, has developed a ultra high performance USB cable – the Atlas Cables Element USB interconnect.
The Element cable uses Atlas' proven technologies, tested materials, R&D, and thorough listening tests to deliver the highest level of performance that technology currently allows Atlas Cables to deliver.
The Element USB interconnect features silver-plated wire, which through testing revealed was an optimal material for digital signal cables, if not for analog cables.   Jitter reduction is part of the objective of the cable architecture and they cables have also been designed to reject interference in order to make your enjoyment of music the more exciting and captivating.
The new Element USB interconnect will be available this December 2012 in A/B forms and A/B Mini, ranging in lengths from 0.5 metre to 5 metres.  U.K. pricing (including VAT) is as follows:
0.5 metre – £35.00
1.0 metre – £37.50
1.5 metre – £42.50
2.0 metre – £47.50
3.0 metre – £57.50
5.0 metre – £77.50
North American pricing and availability are yet to be announced.  For  more information on this product, go to: www.atlascables.com.