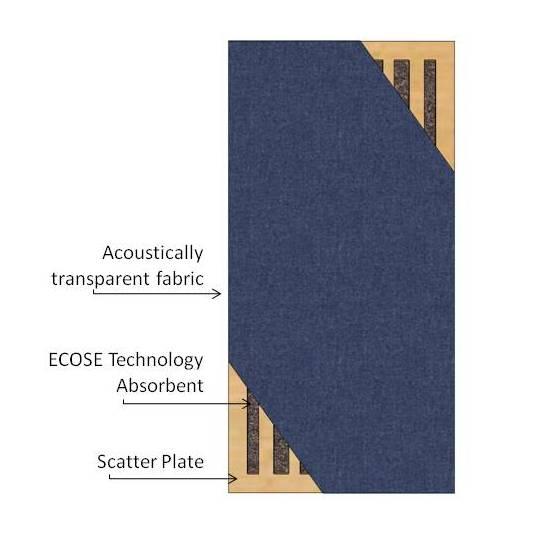 GIK Acoustics has just recently announced what they claim to be a new breakthrough option in their absorption product line – the Scatter Plate.  With the new Scatter Plate, scattering / diffusion can be added to all GIK broadband bass traps and acoustic panels. 
The Scatter Plate, is a wooden plate crafted with a mathematical sequence of slots that add one-dimensional scattering / diffusion. The Scatter Plate is built-in between the fabric and the absorption material on GIK Acoustics' 242 Acoustic Panel, 244 Bass Trap, Monster Bass Trap, Tri-Trap or ArtPanel.
The concept of the Scatter Plate comes from mimicing the treatment in professionally designed control rooms, which typically utilize wooden slats along the walls in front of broadband absorption to give an even balance of absorption, diffusion, and scattering.
GIK Acoustics' broadband bass traps and acoustic panels are designed to provide high performance at reasonable prices and when coupled with diffusion and scattering by way of the Scatter Plate, can help you to achieve a completely balanced sound without over-dampening high frequencies, in your room. The GIK Acoustics Scatter Plate sequence prevents periodicity, while giving great scattering from 2.5 kHz up to and above 10 kHz.
The Scatter Plate option is available as a built-in addition for only $49 U.S. / panel.  Look for more details at: www.gikacoustics.com.