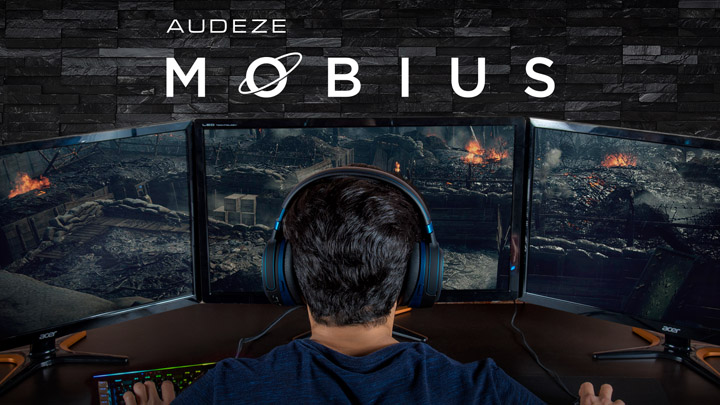 The just-announced Audeze Mobius is the first high-end, fully immersive 3D cinematic audio and head tracking-enabled headphone designed specifically for gamers. Mobius is available to pre-order now on Indiegogo with early-bird, introductory pricing starting at $199 USD (retail value $399 USD).  With Mobius, Audeze is bringing their worldwide acclaimed audiophile sound to video gamers.
Mobius features full 3D emulation with support for surround sound modes along with a fully integrated 3D head-tracking system that interfaces seamlessly with today's most popular video games. Coupled with state-of-the-art room emulation technology and anatomy calibration, Mobius is truly optimized for the way your brain processes sound, in a manner consistent with real-world listening. This means that you will be able to hear your gaming opponent sneaking up behind you as clearly as though they were in the room with you.
The headphones' advanced technology and lightweight ergonomic design, deliver comfortable, long-term use and reduced listening fatigue. This comfort is enhanced by the inclusion of fully replaceable, contoured memory foam ear pads and an adjustable, durable, memory foam padded headband.
Mobius also comes with a flexible and detachable boom microphone with built-in noise attenuation, mute/unmute functionality, and independent microphone volume control in order to provide crystal-clear voice quality. This allows users to dictate team strategy without having to worry about the details getting lost in translation.
Other highlights of the Mobius include: planar magnetic audio quality, Bluetooth integration, USB-Cm USB-A and 3.5mm analog connectors, and 10+ hours of battery life,
The optional Mobius Creator Package comes bundled with the latest 3D audio plugins from Waves, including the B360 Ambisonics Encoder and the NX Virtual Mix Room; both crucial tools for anyone working with Virtual and Augmented Reality applications.
Distributed in Canada by Erikson Consumer, product will start to ship in June 2018. For more information about the campaign and to order Mobius, visit www.audeze.com