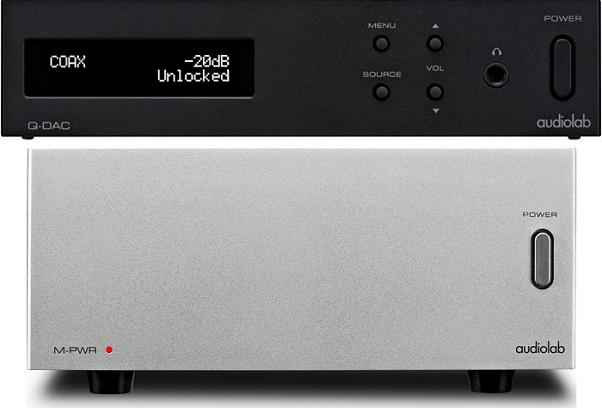 Audiolab is adding two new components to their compact LAB Series: the Q-DAC and matching M-PWR power amplifier.  The new Q-DAC leverages the same circuit design as Audiolab's M-DAC but simplifies the feature list while maintaining critical performance, at a third of the M-DAC's price.  
Like the M-DAC, the new Q-DAC is a DAC, digital preamp and headphone amp.  Quality of components is high including the ESS Saber32 D/A converter chip, 32-bit processor.  The key differences between the Q-DAC and its higher priced M-DAC sibling, are as follows:
– Simpler display (M-DAC has a larger OLED display)
– Analogue outputs – RCA only (M-DAC also has balanced XLR)
– Digital inputs – 1x optical; 1x coaxial; 1x USB (M-DAC has 2x optical; 2x coaxial; 1x USB)
– No remote control
– Slightly different ESS Sabre32 DAC chip (9016 instead of 9018)
Like the M-DAC, the USB input is asynchronous, while utilizing a high-current, high-linearity Class A output stage and headphone amp to deliver the best possible signal quality to a power amp or pair of headphones.
The Q-DAC's USB and coaxial inputs handle data up to and including 24-bit/192kHz (24-bit/96kHz via the optical input) with seven digital filter setting.  The Q-DAC is designed to provide around 98 per cent of the performance of the M-DAC for only two-thirds of the cost.
Audiolab's new M-PWR is a compact stereo power amp designed to be the perfect partner for either the Q-DAC, or the M-DAC, leveraging these DAC's integrated digital preamplification capabilities.  The M-PWR incorporates both single-ended RCA and balanced XLR inputs, and supplies 40W per channel into eight ohms. Despite its conveniently compact footprint – 25cm wide and 23.6cm deep.
The M-PWR can be connected to anything with a volume control: for example, a preamplifier, a CD player with a variable output (Audiolab's 8200CDQ, for instance) or even the headphone output of a computer.
Whether used individually or partnered together, Audiolab's new Q-DAC and M-PWR are perfectly suited to modern digital music collections.  Both components are available this June, 2013 in a choice of silver (natural aluminium) or classic Audiolab black.  U.K MSRP is as follows £399.95 (Q-DAC) and £499.95 (M-PWR).
Look for more information on these products at: www.audiolab.co.uk.