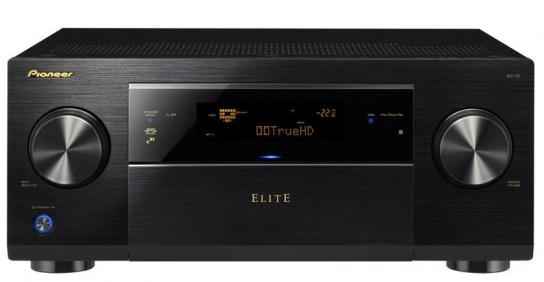 Pioneer has just released two new 7.2-channel, Class D amplified, 4K UltraHD receivers under their Elite brand, the SC-71 and SC-72.
Class D amplification provides for high output and low distortion in a compact chasis.  Since receivers are multi-channel, incoporating in the case of the SC-71 and SC-72 7-channels of amplification, Class D potentially more punch given size/weight constraints in receiver design.
These two new Elite recievers sport 4K Ultra HD pass-through and can upscale lower-resolution video to the higher resolution.  Added flexibility is provided for compatible smartphones and tablets, through MHL (Mobile High-Definition Link) for playback of audio and video content from such devices.
Along with standard 7.2-channel setup these receivers provide the option for full 5.1-channel with an extra two channels for a 2- channel zone 2 setup – potentially in another room (zone).  The SC-71 and SC-72 offer up to three zones of control.
The SC-72 allows for tone, volume, balance and a 2.1 setup (including subwoofer), as well as a fourth zone as a two-channel setup.  Control can be performed using Pioneer's iControlAV2013 app for iOS and Android.
The receives both handle WAV, FLAC, MP3, AAC and WMA audio file formats that can be streamed from a Wi-Fi network connected computer or a plugged-in USB drive. High-res AIFF and Apple Lossless files, along with Gapless and DSD file music playback are supported, as well.  DLNA 1.5 is supported for playback from a compatible device or app.  The receivers have built-in Ethernet ports but Wi-Fi required Pioneer's AS-WL300 optional adapter.  AirPlay for streaming from iOS devices and Macs is incorporaed and some Android devices like the HTC One and its HTC Connect streaming feature can also be used. Pandora and vTuner are both supported out of the box, though any audio source can be played over a home network connection.
These two new Pioneer Elite receivers are expected to begin shipping in June with the following MSRP's: $1,100 U.S. (SC-71) and $1,400 U.S. (SC-72).  Look for more details on these products at: www.pioneerelectronics.com.