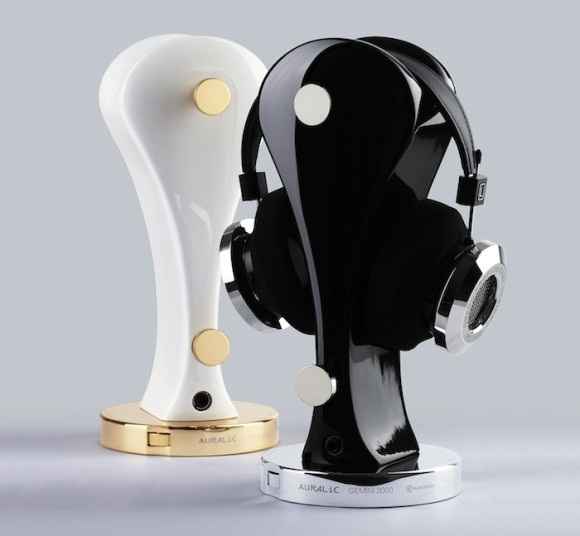 AURALiC has just joined the headphone fever with Sweden's Klutz Design to produce their new Gemini 2000 and 1000 headphone docks.  The Gemini 2000 and 1000 are a combination of style, functionality and performance that integrates a headphone rack station, with a headphone amplifier within a designer aesthetic.  The Gemini headphone docks are equipped with a Class A headphone amplifier with maximum output power capabilities that relate to the model names i.e. the Gemini 2000 can output up to 2000 mW (or 2 Watts), while the Gemini 1000 is capped at 1 Watt output.
Named after the constellation Gemini, the two headphone docks include a full-format Digital Audio Converter (DAC), a Class-A headphone amplifier, an integrated SD Extended Capacity (SDXC) card reader holding up to 2 terabytes and provides both headphone as well as cord storage.  The base of the Gemini is milled from brass and houses balanced (4-pin) and single-ended (quarter inch) headphone connectors, USB, SDXC card slot, phone jack input, volume control, input selector, power on/off and power socket. The base also displays volume and sample rate.
Height: 30 cm / under 12 inches
Weight: 3 kg / 6.2 lbs
Finish: hand-polished lacquer in a choice of five colours (black, white, red, yellow and blue)
Frequency response: 20 Hz – 20 KHz 
Maximum file storage: 2 TB
Total Harmonic Distortion: THD: <0.001% for Gemini 2000 and <0.002% for Gemini 1000
Both the GEMINI 2000 and 1000 will be available in November at the following respective MSRP: $1995 U.S. and @ $995 U.S.  Look for more information at: http://www.auralic.com/.