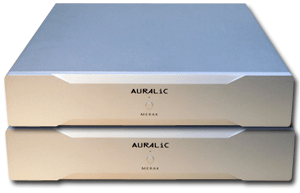 Auralic Limited (AURALiC) is an Asian audio product company that has a small portofolio of consumer products. Within this product line is their ARX M+ DAC, Taurus preamplifier / headphone amplifier and Gaia line of balanced and single-ended cables.  Just recently, AURALiC has added to their line-up of audio products with their new Merak monoblock amplifier.
The new Merak monoblock amplifier is a bridgeable amplifier that is rated at 200 watts into 8 ohms and 400 watts into 4 ohms.  The Merak utilizes a class A input stage with class D outputs and a linear power supply.  The bridging capabilities of the Merak amplifier can be exploited by using a special XLR output on the back the Merak amplifier that allows power output to be doubled up to 800 watts into 4 ohms.
Look for more details on this product, to come, at: www.auralic.com.