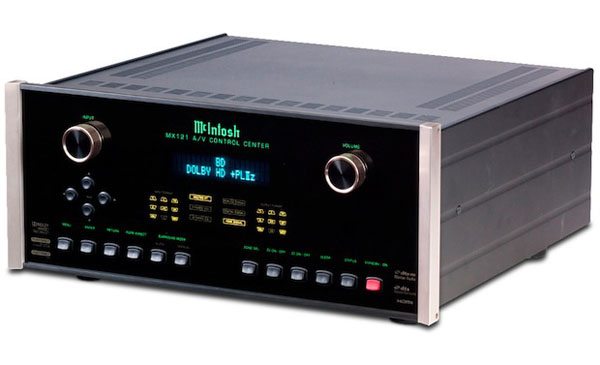 McIntosh Laboratory has just announced a number of new home theater products, including the MX121 A/V Control Center ($6,000), MC8207 Power Amplifier ($6,000) and MVP891 Audio Video Player ($5,500). When purchased together for a total "home theater bundle" package price of $17,500, these components promise the unmatched McIntosh home entertainment experience at a significant value. Handcrafted at McIntosh's Binghamton, NY facility, each product reflects the very best aspects of McIntosh engineering, design and passion. When combined, they deliver nothing less than a superb, stunningly realistic and immersive cinema-like experience.
MX121 A/V Control Center
The MX121 A/V Control Center moves beyond the features and capabilities of the conventional Home Theater controller with a powerful suite of contemporary features geared toward today's music lover. It sets high performance home theater with new standards, providing users with an elegant solution for controlling and enjoying the maximum benefits of today's advanced video and audio source components. Notably, Apples Airplay allows users to stream music from their iTunes music libraries on Mac or PC, as well as music stored on their iPad, iPhone or iPod touch, though their Wi-Fi network. Additionally, a wired USB input connection allows for iPod and iPhone use so all portable tunes can be played back with full size fidelity. To dramatically improve video performance, the MX121 features a robust up-converting video processing engine with advanced HDMI capability, ensuring that all non HD video sources are up converted to HDMI output and scaled at up to 1080P resolution. All of the latest audio video film formats are supported including 3D and HDMI as well as all legacy source formats such as VCR and even Laser Disk.
The MX121 carries on the McIntosh tradition of sonic excellence with exceptionally low noise and distortion performance. Two balanced inputs combine with balanced outputs and a differential balanced audio topology to offer superb low-level linearity. Coaxial and optical digital audio inputs are provided. An on-screen user interface is menu-driven and intuitive for ease of system set up. An RS232 input offers compatibility with third party remote control systems while McIntosh Power Control and Data Ports enable the unit to control an entire McIntosh system from a single hand-held remote.
MVP891 Universal Blu-ray Player
The MVP891 Universal Blu-ray player is a single source component offering universal compatibility and world-class performance from virtually all today's most advanced video and audio disc formats, also supporting BD-Live Blu-ray Profile 2.0 web-enabled features. It reflects all of McIntosh's leading-edge craftsmanship, attention to detail, unmatched performance, and sets a new standard in ultimate-quality source components. Notably, it offers fully up-to-date home entertainment integration capabilities, allowing for BD-Live and file sharing across a home network.
The MVP891's ultimate-quality music listening experience is made possible through Dolby TrueHD and DTS-HD Master Audio decoding with 7.1 channel analog outputs, In addition to its advanced Blu-ray capabilities, the MVP891 excels at playing SACD and DVD Audio discs as well as standard CDs and DVDs.
The elegant, rock-solid "dreadnaught style" design features custom fabricated steel and aluminum casework with unique, compartmentalized sub structures that inhibit resonance while shielding sensitive audio circuits. For maximum flexibility in convenience and installation, the unit also features a USB Memory Drive reader, an RS232C interface and an Ethernet connection for BD-Live content and future software updates.
MC8207 Power Amplifier:
The MC8207 Power Amplifier delivers seven channels of power to a home theater system at 200 watts per channel for a true cinematic experience that allows consumers to enjoy the deeper meaning of a movie's full-range soundscape – far beyond the performance of traditional single chassis home theater receivers. It is the ideal choice for a 7.1-channel system or a 5.1-channel system, with the remaining 2 channels utilized for a second stereo zone. The unique McIntosh Dynamic Power Management circuit allows full power into both 4 and 8 ohm speakers. Aesthetically stunning, the MC8207 features three new "theater style" LED watt meters which allow monitoring of power sent to the main three front speakers. By operating the amp to match the power requirements of specific speakers, users are always assured optimum performance.
For more info, please visit www.mcintoshlabs.com