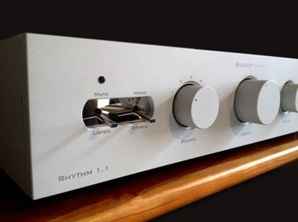 Backert Labs has just released their new Rhythm 1.1 single-ended tube preamplifier.  The Rhythm 1.1 has a sonic emphasis on rhythm and dynamics and is claimed to be the first-ever power supply to utilize V-Cap capacitors.  For improved sonics as well as being environmentally friendly, the Rhythm 1.1. uses no aluminium electrolytics.  This preamplifier has automatic continuous bias that adjusts for different tubes.  The new Backert Labs Rhythm 1.1. uses a constant-current zero NFB circuit with active bias management.  Output impedance is below 500 ohms, internal wiring is Kimber Kable and the volume and balance control are by TKD.  The Rhythm 1.1 utilizes two 12AU7 tubes in its gain stage and an all V-Cap power supply. 
The front panel has input control, volume adjustment, mute, mono switches and balance control.  There are five sets of stereo RCA inputs and two sets of RCA output jacks plus a fixed output.  A remote volume control is also provided.  The innovative power supply is claimed to bring high quality rhythm and dynamics not achievable with normal supplies. Patented by Mr. Backert, 'GreenForce' is claimed by the company to be the first completely new kind of power supply since switched-mode power supplies were conceived in the 1950s.  It uses fine and high quality V-Cap brand capacitors and is said to push power into the amplifying circuit, proactively, instead of passively providing power.  
The Backert Labs Rhythm 1.1 vacuum tube stereo preamplifier is currently available in silver or black at a MSRP of $7500 U.S.  Look for more details to be made available at: www.backertlabs.com.