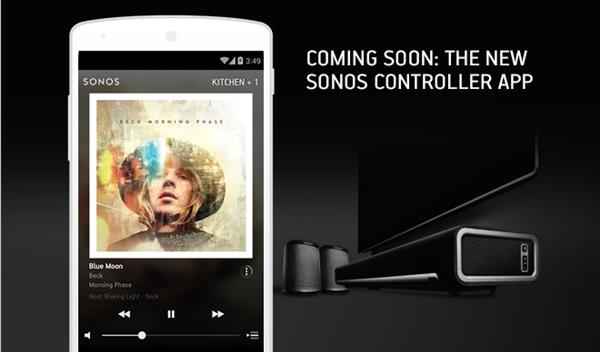 Sonos is the hottest digital music system on the market right now.  It consists of several components, ranging from all-in-one wireless speakers designed for use in a single room, to streaming modules that connect to existing speakers/sound systems and can be used to build a multi-room system.  At CANADA HiFi, we love the Sonos system so much that we've got it set up in every room in our office.  Sonos represents one of the most affordable ways to create a multi-room music system in your home.
So we certainly got excited when Sonos announced that it will be releasing a new controller app for smart phones and tablets, with a sleek interface, a streamlined search function and an increased focus on album art.  The new app promises to make it easier than ever to play the music you love today and discover the music you will love tomorrow.  The new app is slated for a Spring 2014 release.
New design and simplified interface
A refreshed design and simplified interface makes listening to your Sonos more intuitive than ever before. The app's three main modules allow for a simple navigation between the music currently playing, what room it's playing in and how to find the next song you want.  It's been designed as a platform to bring you the best music experience for your home today, with the ability to adapt to what we have in store in the future.
New universal search
Sonos brought all our streaming services together for the simplest search ever to bring you the music you love in a heartbeat. For example, search for an artist in one window and the app will search for that artist across all your music services at the same time. Play their radio  station on Pandora. Look up their album on Spotify. Play one of their latest tracks through Hype Machine. It's completely up to you.
To read CANADA HiFi's recent feature about the Sonos system, along with a review, please check out:
https://novo.press/building-an-affordable-multi-room-audio-system