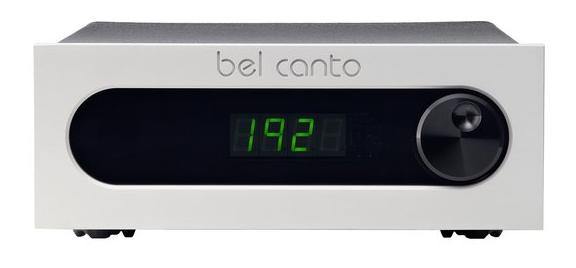 Bel Canto Design, Ltd. is looking to better meet the needs of clients who are into computer sourced audio playback with the introduction of three new Asynchronous USB Link Converters: the entry-level mLink; mid-level uLink and; top-of-the-line REFLink. 
The new Bel Canto Link Converters accept the USB output from a computer and ensure that it is delivered to a connected DAC via an ultra-low jitter S/PDIF connection.  All three USB Link Converters feature native MAC USB 2.0 compatibility, a custom Windows USB 2.0 driver, and operate at 16- or 24-bits at 44.1, 48, 88.2, 96, 176.4 and 192kHz on a proprietary 500MHz DSP Core.
Asynchronous USB does one thing really, really well; decoupling the critical audio clock from the music data just as you find in the pro audio world. The new USB Link Converters' output noise and jitter are entirely dependent on the quality of the clocks. Since the oscillators are now free-running and isolated from the incoming data stream the Low and Ultra-Low Phase-Noise Clocks now available make an astounding difference, turning the uLink and REFLink into essentially noise-free sources.
Bel Canto's new mLink USB converter uses Dual Low-Noise Clocks that are 10-to-100 times lower noise than typical oscillators. The compact mLink takes its power from the USB connection applying filtering and multiple dedicated supplies and outputs SPDIF on a BNC connector.
With the mid-level uLink, the steps up with Dual Ultra-Low Phase-Noise Clocks.  Low vs Ultra-Low being the defining factor between the mLink and uLink clocks. The uLink's oscillators are more costly and deliver even lower jitter and noise which enhances the Bel Canto Jaw-Dropping Effect. 
The uLink also takes power from the USB connection so its compact dimensions make it easy to place. Like the mLink the power supply is filtered with multiple dedicated supplies. The uLink outputs SPDIF on a BNC connector and a ST Fiber Output.
The REFLink provides a ST Fiber output for use with with a Bel Canto 3.5VB Mk II or you can run SPDIF on BNC or AES/EBU to any other DAC. The REFLink features Dual Ultra-Low Phase-Noise Clocks and on ST Fiber Optic achieves triple galvanic isolation.
The REFLink is a full AC-powered e.One chassis using the same LNS (Low Noise Supply) as the DAC2.5. As lower noise allows clocks to dominate the sound, the LNS dramatically lowers line noise with multiple stages of isolated power that drive individual sections of the circuit. The output clocks and line-drivers are powered by a separate low-noise power supply. Read More Here!
Bel Canto's music products are made in Minnesota and subscribe to low-impact production methods that put little waste back into the system. Reduced packaging volume and lower transport weight reduces environmental impact. Bel Canto reuses or recycles more than 99% of the packing materials found in incoming parts shipments, and each year diverts massive amounts of cardboard, paper, plastic film, and Styrofoam from landfills. Steel, aluminum, and other metal waste products are recycled and returned to the production stream.
Look for more detailson these products at: www.belcantodesign.com.