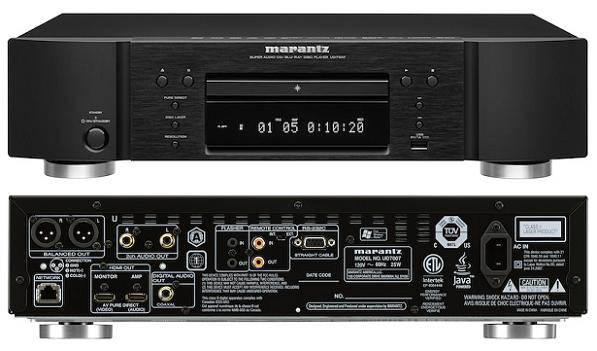 Marantz America, is set to debut two new Universal Media Players, the UD7007 and UD5007, at CEDIA 2012. Both Blu-ray players offer true universal compatibility and full Internet connectivity.
For total user flexibility and convenience, when connected to a compatible Marantz A/V receiver or surround sound processor both players may be controlled with a Smartphone via the newly designed Marantz Remote App. Both units also feature a newly designed on screen graphical user interface for total ease of use and simplicity. The newly designed Marantz remote control in both units includes command functions that let users control fully integrated Marantz home theater sound systems.
Both new Marantz Universal Media Players have been engineered to deliver high quality picture and sound from all sources. The players feature a contoured front panel with aluminum and reinforced resin. Solid, custom engineered feet further dampen any potential vibration and the disc tray is positioned at the center of the chassis so it remains protected on all sides from external influences. Inside, both units feature Marantz' fully shielded disc drive mechanism that provides 20% quicker disc loading and playback compared with previous Marantz models. A steel sub-chassis prevents interference from adjacent circuitry and provides a solid foundation to suppress vibrations. The main chassis also features a dual layer bottom for maximum rigidity.
Both new Marantz Blu-ray players can easily stream videos from online services such as Netflix, VUDU, Hulu, and YouTube. Dual HDMI outputs on the UD7007 allow users to connect to a 3D TV, while also connecting a non-3D capable AVR. Additionally, both units feature front-panel USB ports along with an HDMI output, an Ethernet port, a left/right analog audio output for multi-zone distribution, and remote control in/out ports.
Both new Marantz Universal Media Players are built with a super quiet fan-less construction for smooth operation, and both accept Blu-ray Discs, DVDs, standard and recordable CDs, DVD-Audio, SACD, as well as DivXHD files in addition to AVCHD (high definition video format for camcorder) contained on discs or solid-state memory devices, and WMA, MP3, and JPEG files from either discs or USB devices. HDMI v1.4 outputs on both models ensure the highest quality video and audio performance, and 3D Blu-ray capability. Notably, the UD7007's fully balanced HDAM?SA2 output stage is unmatched for delivering vivid dynamics and transparency – High Quality XLR Output jacks. For optimum audio fidelity, the UD7007 is also equipped with high resolution 192 kHz/32 bit D/A converters operating in differential mode, and the analog output sections feature multiple Marantz HDAM-SA2 discrete amplifier modules for the widest bandwidth and lowest noise. The UD7007 also features HDMI Source Direct, which outputs video in the native resolution, bypassing internal video upconversion. It also features Picture Adjustments, which are video controls that let you fine tune picture quality for the best viewing experience.
Both the UD7007 and UD5007 Universal Media Players are scheduled for availability later this year with pricing yet to be announced. Look for more details to come at: www.ca.marantz.com.