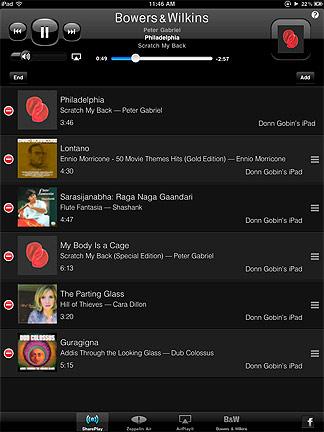 Bowers & Wilkins has just released their new free Zeppelin Air App that revolutionizes how music is experienced socially and wirelessly. The app brings iTunes music collections from multiple iOS devices together wirelessly so several iPad, iPod touch, and iPhone users can build a customized, collaborative community playlist streamed to any AirPlay-enabled music player like the Bowers & Wilkins Zeppelin Air iPod speaker dock.
By downloading the free app from iTunes to your Apple device and having your friends do the same, you can begin streaming tunes to a playlist you manage on your device. You'll have a chance to edit your playlist before you send tunes wirelessly via the app on your device to your music player.
The Zeppelin Air App is the first of its kind that enables users to share music and create collaborative playlists with friends, mobile device to mobile device, which is being labelled as a "wireless, virtual jukebox."
A Mac or PC is not required to use the app; only a Wi-Fi network. If you already have AirPlay set up on your wireless network you can just download the app and give it a try. AirPlay requires iTunes 10.1 or later and iPhone, iPad, or iPod touch with iOS 4.2 or later.
For more information, look to: www.bowers-wilkins.com and/or www.itunes.com.