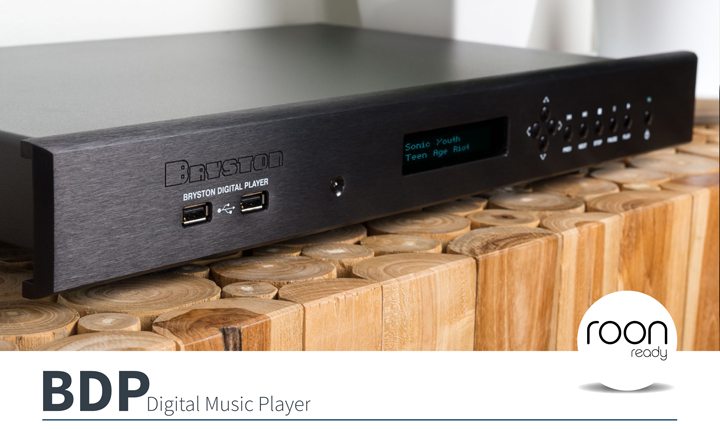 Bryston has just revealed the BDP-3 digital music player ($3,495 US), a reference quality entertainment hub capable of reading virtually all digital file formats and resolutions including DSD 128 and high-resolution PCM up to 32-bit/384kHz files. BDP-3 users can connect to digital music libraries stored on external drives such as NAS or USB to access a nearly limitless archive of digital content, enjoy their favorite Internet radio stations as well as lossless TIDAL streaming.
The BDP-3 offers several enhancements, such as a fast and powerful Intel processor along with 8 gigabytes of RAM, giving the BDP-3 impressive speed even when navigating sizable digital libraries. The BDP-3 boasts three USB 3.0 ports and five USB 2.0 ports on two separate USB buses, dramatically improving disk performance when using USB 3.0 attached drives, while also making the new player compatible with more digital to analog converter (DAC) options than ever before, including those platforms using the Streamlength protocol.
When connecting the BDP-3 to DACs using S/PDIF or AES/EBU outputs, users will enjoy the benefits of Bryston's proprietary, Integrated Audio Device (IAD) in place of traditional third party sound cards. The resulting jitter specs are so low, they are barely detectable by even the most sophisticated measurement devices. Add DSD support, gigabit network connectivity plus world renowned Bryston sound and build quality and you have a premium high-resolution digital music player with unmatched performance.
The Bryston BDP-3 is also a Roon Ready device. Roon Labs has created a software solution that delivers the ultimate user experience by merging Bryston's exceptional digital playback hardware with an intuitive, graphically rich music library management and playback software. Users get the superb sound of the BDP-3 along with a highly refined user interface.
The Bryston BDP-3 is available for pre-order now with an expected delivery in 6-8 weeks.  For more info jump to www.bryston.com