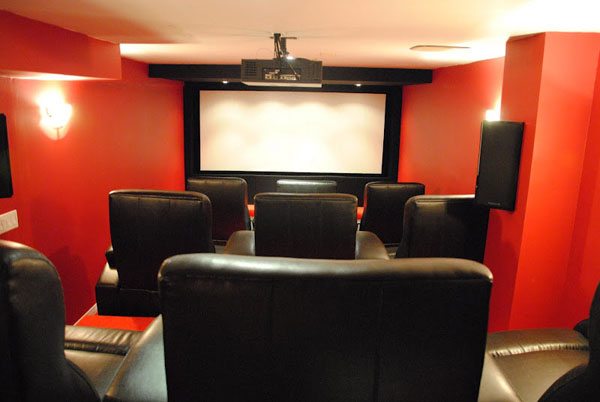 Going to the movie theatre has been a popular entertainment activity for decades. After all, there's a lot of fun to be had when watching a good film on a giant screen, accompanied by life-sized sound. But the advent of big screen TVs and surround home technologies has changed the way many of us enjoy movies. Today many of us prefer to wait until movies get released on Blu-ray disc so that we can enjoy them in the comfort of our own home theatre.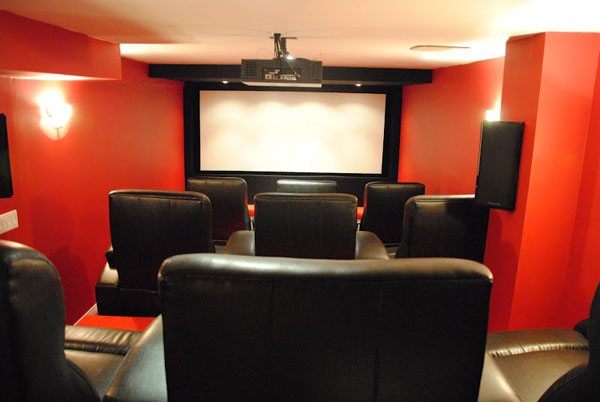 Chris, a dedicated movie buff, is one of the many readers of CANADA HiFi who has long had a dream to build a custom home theatre. Some two years ago when Chris bought a new house in Brampton, Ontario he decided to turn his dream into a reality. He built his basement home theatre room entirely by himself, having no prior construction experience. What's more is that Chris decided to share the story of his home theatre build with us in great detail on the CANADA HiFi forum at novo.press/forum. But what really inspired us to share his story with you in this issue were a few unique concepts that Chris integrated in his design – some that we've never heard of before. Although Chris now has a wonderful home theatre in his basement, he assured me that he and his wife are still keen movie goers.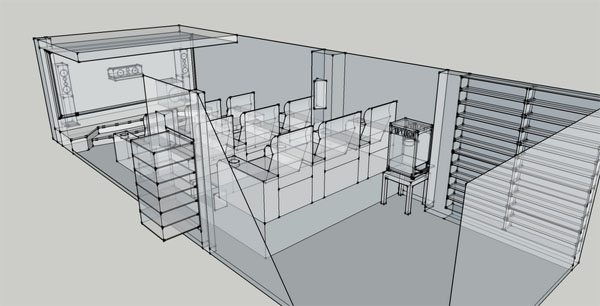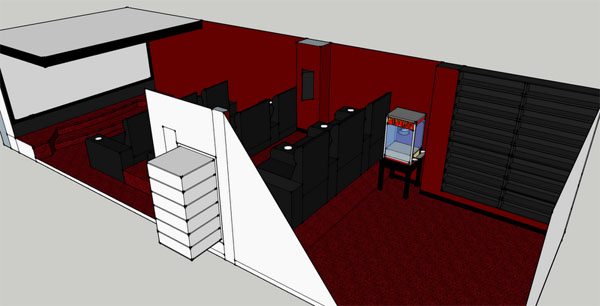 So where does one begin a project of such a scale? You have to have a plan of course. Chris began with a free software called Google SketchUp to design the layout of his 12 by 30 foot room. He quickly learned how to use the software thanks to a few online video tutorials. The renderings above, generated by Google SketchUp, show 3D versions of both the x-ray and solid versions of the home theatre layout.
With the renderings done, Chris started by building a custom rack to house all of his AV gear, which fits comfortably under the staircase leading to the basement in the adjoining room. Although his rack contains all the latest video sources including a Blu-ray player, a high definition cable box and three video gaming systems, Chris made sure there was also enough space for the good old VCR. The Google SketchUp picture on this page shows five speakers and a subwoofer but in the end Chris expanded the system to 7.1 channels by adding two speakers at the back of the room. His speakers of choice were the Atlantic Technology System 450e THX. To simplify audio/video playback and lighting controls, Chris looks to his programmed Philips Pronto TSU-9400 touchscreen remote. Check out the side bar on this page to see a detailed list of the components in Chris' AV rack.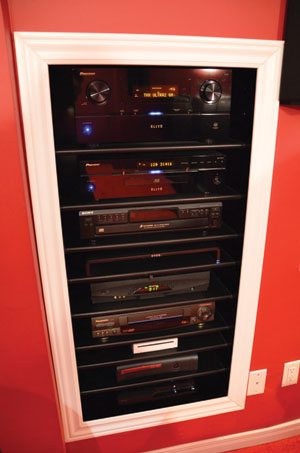 Components in Chris' Home Theatre:
• AV Receiver – Pioneer Elite SC-07
• Speakers – Atlantic Technology System 450e THX
• Front Left and Right – 451e LR THX
• Centre – 453e C THX
• Side Surrounds – 454e SR THX
• Subwoofer – 452e PBM THX
• Rear Surrounds – IWCB-52
• Blu-ray Player – Pioneer Elite BPD-05FD
• Cable PVR – Scientific Atlanta Explorer 8300HD
• Video Processor – DVDO Edge
• Projector – Panasonic PT-AE4000U
• CD Player – Sony CDP-CE245
• VCR – Panasonic PV-9662
• Game System – Nintendo Wii
• Game System – Xbox 360
• Game System – Playstation 3
• Remote Control – Philips Pronto TSU-9400
• RF Remote Extender – Philips RFX-9400
• Lighting Control – Insteon
Next came the building of the big stuff. This included the construction of a new basement wall, the framing for the screen, a decorative stage in front of the screen and the risers for the seats. Chris installed no less than three rows of triple home theatre seats – each seat has its own cup holder and a powered recliner feature. Before installing drywall, Chris also ran the wiring for the surround and rear speakers, new wall sconces, pot lights, outlets and light switches. He admitted that this was the most challenging and time consuming part of the project, as he didn't have any previous experience with framing, drywall or electrical work. Nevertheless, he got it all done and finished it off by laying down a red carpet and painting the walls in a matching colour.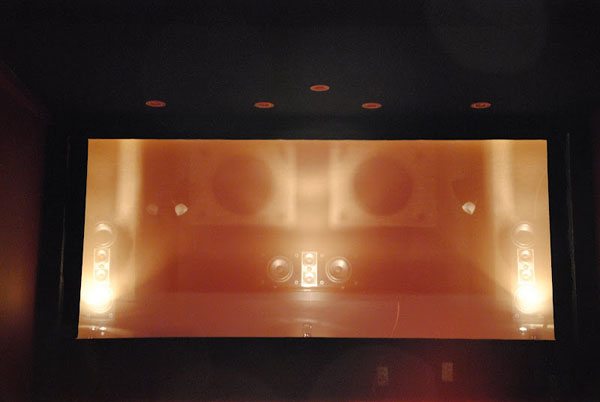 With all the major construction components out of the way, it was time to tackle the custom 130 inch screen (2.35:1 aspect ratio). And believe me when I say 'custom' I mean custom. First, Chris constructed a screen frame about two feet from the back wall. This allowed him to place the front left and right speakers, the centre channel and the subwoofer behind the screen. The frame was then outfitted with an acoustically transparent screen material. Now here comes the unique, custom part – instead of framing the screen with a fixed black mask, Chris decided that he'd like the black mask to be adjustable at the push of a button, so that the screen can match the aspect ratio of any film. Accomplishing this proved to be a little tricky and took Chris a few failed attempts. The end product was a mechanical solution which combines an electric motor, roller tubes, pulleys, wire and a black, acoustically transparent material. And to top it all off and provide a truly authentic movie theatre feel, Chris installed a few carefully positioned spotlights behind the screen. So with the lights off in the room Chris can wow his viewers by showing them the speakers behind the screen, just like at the IMAX theatre!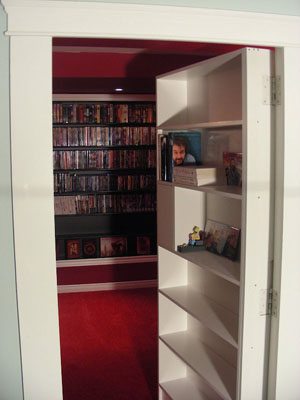 I thoroughly appreciate all of the elements of Chris' home theatre but the one that takes the cake for me is the secret bookcase entrance door, inspired by the movie "Clue" and 80's sitcom "Webster". Since this is a secret door, there is no handle – instead you tilt a book toward you to open the door. As with the screen, Chris had to get creative to get this one to work but with a little ingenuity anything is possible. The bookcase itself acts as a door and has a standard door handle concealed inside it. When you tilt the book (attached to a metal bracket), it pulls the door handle up and hence opens the door. A large castor concealed at the bottom of the bookcase helps it slide smoothly when opening and closing. Now that's something!
It was a great opportunity to see Chris' finished creation and as you might imagine Chris put on a little demonstration for me by firing up one of his favourite films, "Apollo 13". Although I didn't spend enough time in his HT to do a full-fledged evaluation, both the sound and the video were excellent and resulted in an immersive movie watching experience. I tip my hat to Chris' creativity and efforts – the results are nothing shy of remarkable.
To see his project from start to finish, please go to novo.press/forum and click on "Member Galleries – Home Theatre" and then "Big Plans". Who knows? Reading this thread may be just the inspiration you need to build your own home theatre!
Share Your System With Us!
Would you like to see your 2-channel or HT system featured in the CANADA HiFi magazine? Please post pictures of your system on the CANADA HiFi forum at novo.press/forum as we'll be picking more systems to appear in upcoming issues!