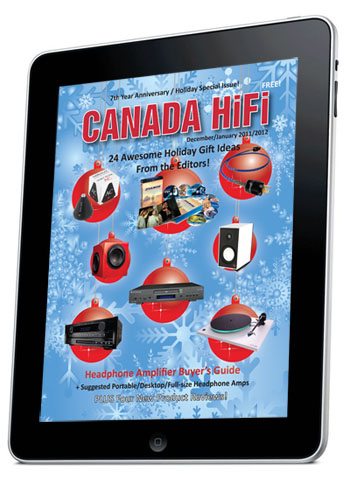 The latest version of the CANADA HiFi App for the iPad/iPhone and iPod touch is now available for download from the iTunes App store.  We encourage all CANADA HiFi App users to upgrade to this new version right away to take advantage of the new features and enhancements.  And those who haven't experienced the app yet, please give it a try – it's completely free!
To download the app, search for "CANADA HiFi" in the App Store on your Apple device.
Other tablet users can read CANADA HiFi digital editions without any apps – simply visit novo.press/ and click on the "Digital Editions" page!
*IMPORTANT*
Version 1.5 of the CANADA HiFi App is designed for first generation iPad, iPhone 3GS and iPod Touch 3G devices or better.
New features and improvements in version 1.5:
– New "Jump to website" feature allows you to jump directly to the website featured in every advertisement
– New graphical page index, accessible at the bottom of every page, allows you to navigate to a specific page number
– New tool bar appears at the top of every page for 2 seconds
– New "Share Current Page" feature allows you to share a page from the magazine with your friends via email, Facebook, Twitter or to save it to your photo album
– New "Share" feature on the home page allows you to quickly share the app with your friends
– Improved visuals on the home page of the app
For more info please visit http://itunes.apple.com/us/app/canada-hifi/id433031680?mt=8