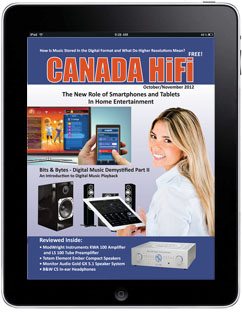 The digital edition of the October/November 2012 issue is now available in the Digital Editions section.
Features inside this issue include:
The New Role of Smartphones and Tablets In Home Entertainment
How Is Music Stored In the Digital Format and What Do Higher Resolutions Mean?
Bits & Bytes – Digital Music Demystified Part II: An Introduction to Digital Music Playback
Reviewed inside:
ModWright Instruments KWA 100 Amplifier and LS 100 Tube Preamplifier
Totem Element Ember Compact Speakers
Monitor Audio Gold GX 5.1 Speaker System
B&W C5 In-ear Headphones
Click HERE to jump to the Digital Editions page
iPad/iPhone/iPod touch users – please open the CANADA HiFi App on your Apple device and you will now see this new issue on the home page of the App (pull the home page down with your finger to update if the latest issue doesn't appear automatically). If you haven't downloaded the free CANADA HiFi App just yet, please do so from the App Store on your device.