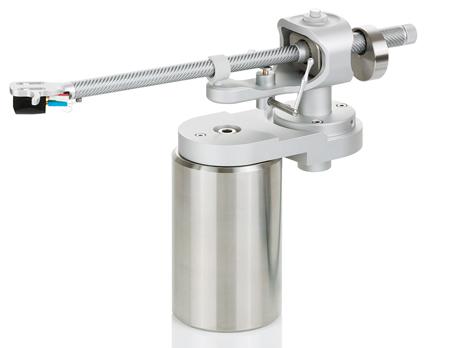 Magnify might be an appropriate name for this new tonearm from Clearaudio as that's its objective, to magnify all that good stuff in the vinyl grooves.  The Clearaudio Magnify tonearm is an all new rigid design arm that is based on and improves on, their Exact tonearm. 
 The Magnify is said to take things a step further by utilizing a hybrid arm bearing, combining vertical precision ball races with a magnetic horizontal bearing featuring adjustable damping.  The two-piece carbon fibre arm tube incorporates micrometer adjustment of tracking force and azimuth
 Supplied as standard is a Linn-type mount or the Magnify can be used with Clearaudio's vertical tracking angle (VTA) adjuster, even during playback.
 The construction of the unit includes ball bearing magnet hybrid technology and offers a cartridge balance range from 4 to 22 grams. Zero points are 66.04 inner and 120.9 mm outer and has an overhang of 17.3 mm with overall length of 345 mm. Other technicals include an effective tonearm length of 9.4 inches (239.3 mm), distance from pivot to stylus is 222 mm and the unit's maximum of tilt angle according to the radius is 0.123 °/cm. Included with the tonearm is a one meter Clearaudio Sixstream cable or RCA Junction box and warranty is five years parts and labor.
 The Magnify has been released in the U.K. at an MSRP of £2375.
 More details at: http://www.clearaudio.de