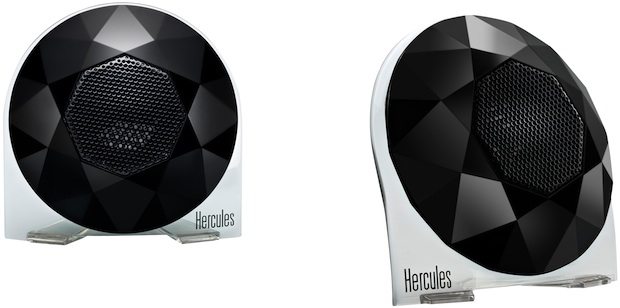 When you think of Hercules – you probably don't think about diamonds; however, just new from the company Hercules is their XPS Diamond 2.0 USB Multimedia/PC Speakers.  Interestingly enough, these speakers have been designed with female users in mind – perhaps Delilah? 
 The new Hercules XPS Diamond 2.0 USB speaker kit has been designed for those who would like to add some functional style to their computer, laptop, mobile audio player.  The two satellites feature a unique shape and black lacquered finish, with transparent base. 
 The USB connection for power and audio signal, and wired miniature remote volume control makes these speakers very accommodating.
 The satellites' measure just 3.5″ in diameter and include a black velvet carrying pouch with separate compartments to allow for ease of transport.  
Look for more details at: http://www.hercules.com