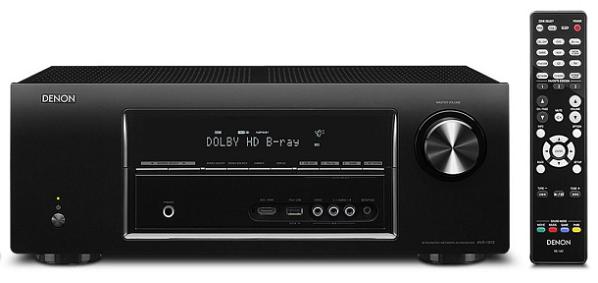 Denon Electronics, has just announced their new core line of audio/video receivers (AVRs) for 2012.  This lineup of AVRs includes the 7.1-channel AVR-1913 as well as the 5.1-channel AVR-1713, AVR-1613 and AVR-1513.  
The AVR-1913, AVR-1713 and AVR-1613 feature Apple's AirPlay, allowing users to customize soundtracks for their home by unleashing their iTunes music libraries through a Mac, PC or an iPhone, iPad or iPod touch.  All three receivers also feature iPhone, iPad and iPod touch direct connectivity via USB for quick and simple integration into your home audio system.
The receivers provide an easily accessible front-panel HDMI input for quick and easy connections of camcorders and cameras, the AVR-1913, AVR-1713 and AVR-1613 also each feature a front-panel USB input, allowing users to enjoy digital music from connected devices. All models except the AVR-1513 support AirPlay and are DLNA 1.5 certified.
All new receivers feature an efficient and straightforward short signal path circuit design that ensures optimal audio and video playback by minimizing any signal degradation due to interference.  With the exception of the AVR-1513 all these new receivers feature Audyssey audio technologies.   Audyssey Dynamic Volume offers real-time volume adjustment; while Audyssey DynamicEQ improves a system's surround sound effects at low volume levels.  Audyssey MultEQ (in the AVR-1613 and AVR-1913 (MultEQXT in the AVR-1713)) automatically sets speakers (including the subwoofer) to suit the room's listening environment and the speaker's characteristics.
Key Features:
7.1-Channel AVR-1913:
90W x 7, 6 HDMI Inputs, Analog to HDMI Conversion, 1080P Upscaling, Powered Zone 2
5.1-Channel AVR-1713:
80W x 5, 6 HDMI Inputs, Audyssey MultEQ XT, Zone 2 Preout
5.1-Channel AVR-1613:
75W x 5, 5 HDMI Inputs, Audyssey MultEQ, Setup Assistant, Network Ready, AirPlay, SiriusXM, vTuner Internet Radio, Pandora, DLNA 1.5, Made for iPod USB Input
5.1-Channel AVR-1513:
75W x 5, 4 HDMI Inputs (1 Front), 3D Passthrough, GUI with Overlay, Discrete Amplification"
All receivers a now available at the following MSRPs:
AVR-1913: $579.99 U.S.; AVR-1713: $449.99 U.S.; AVR-1613: $399.99 U.S.; AVR-1513: $249.99 U.S.
Look for more details at: www.ca.denon.com.