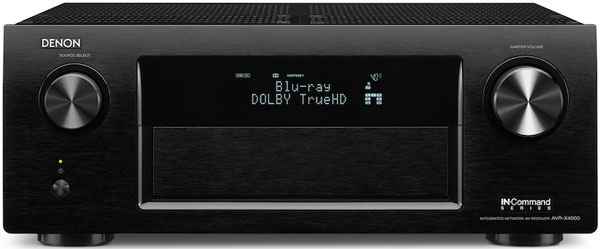 Denon has just added four new models to its line of IN-Command Series AV receivers. The series includes the AVR-X1000 Network Home Theater Receiver ($499 US), the AVR-X2000 Network Home Theater Receiver ($699 US), the AVR-X3000 Network Home Theater Receiver ($999 US), and the AVR-X4000 Network Home Theater Receiver ($1299 US).
Each new model features a three-year warranty, Audyssey MultEQ XT, full network streaming functionality, variable multi-zone pre-outs, I/P control, web configuration, remote access, I/R serial inputs, detachable power cord, Control4 certification, front panel I/R lockouts, fully assignable digital and analog A/V inputs, new HDMI video select functionality, AM/FM tuners, enhanced front panel cosmetics and expanded amp assign configurations. The AVR-X3000 and AVR-X4000 both feature multiple HDMI outputs with discrete matrix functionality and for the first time ever will support HDMI audio input analog conversion (as well as digital coax and fiber optic)for playback with multi-zone setups.
Denon believes that home theater lovers should be able to start enjoying all the great performance and capabilities of their new receivers practically as soon as they take it out of the box. That's why all IN-Command series home theater receivers are incredibly easy to set up and operate. For example, all four models, come with newly designed, easy to use, horizontally arranged 4-way speaker wire binding posts with a 12 o'clock wire input. Denon's new Setup Assistant guides you through every step of the process quickly and easily, using an enhanced GUI that provides easy-to-follow instructions. Additionally, the front panel displays use easy-to-read characters to increase visibility from across the room. Finally, IN-Command series receivers are built to be more compact, with less chassis depth for easier installation in tight spaces. All four units feature convenient front panel HDMI inputs for connecting a camcorder or game console, plus front USB inputs for quick and easy connection of your portable device.
All four new Denon IN-Command home theater receivers are controllable via a Smartphone using the Denon Remote App, so users can control almost every aspect of their multimedia experience, including browsing Internet radio and files on a media server, playlist creation, volume, input selection, surround sound modes multi zone control and menu navigation.
Here is a brief look at each of Denon's new IN-Command home theater receivers and their specialized features:
7.2-Channel AVR-X4000: The Ultimate Performer
The leading-edge Denon AVR-X4000 A/V receiver delivers ultimate quality sound and images through its 7.2 receiver channels (fully discrete, with identical quality and power for all channels, 125 W x 7 ch), plus a wealth of features for enjoying music or video programs, such as 4K Ultra HD upscaling. In addition to AirPlay, it offers playback of Internet radio, music stored on a networked PC or hard disk as well as HD audio (up to 192 kHz) music sources. Digital multi-zone functionality lets everyone in the home enjoy music or video entertainment in separate rooms, while the main program runs in the living room (multi-room, 5.1channel receiver sound with separate stereo audio in a 2nd or 3rd room).
The AVR-X4000 features enhanced surround processing via Audyssey DSX and DTS Neo:X, to dramatically enhanced surround sound experience with front height and front wide speaker configurations. The advanced surround sound capabilities of the AVR-X4000 can be expanded to a maximum of 9.2 channels by adding a separate power amp.
The unit's Audyssey MultEQ XT32 and Audyssey Sub EQ HT Dual subwoofer EQ calibration system makes it simple and straightforward to maximize home theater performance for any size or configuration of room. Via the supplied microphone, MultEQ measures the characteristics of each speaker in the system (including the subwoofer) and quickly generates precision digital filters for the smoothest, most natural tonal balance over the entire audio range. Additionally, Audyssey Dynamic EQ improves surround effects at lower volume levels, Audyssey Dynamic Volume stabilizes volume levels for consistent sound, and Audyssey LFC solves the problem of low frequency sounds disturbing people in adjacent rooms
The AVR-X4000 receiver features 3 HDMI outputs and 7 HDMI inputs, including one on the front panel that allows for easy connection of a camcorder or game console. There are two outputs for main room video (such as a projector and a flat screen TV), and one output for multi-room video in a second room with the same or a different source.
AVR-X3000: Immersive Sound and Images
The AVR-X3000 home theater receiver is ideal for enjoying both 3D video and immersive surround sound. Its powerful 7-channel amplifier (105 W x 7 channels) delivers a rich, enveloping surround soundfield. Like the AVR-X4000, it offers digital multi-zone functionality for enjoying music or video entertainment from separate sources in different rooms, as well as Audyssey DSX and DTS Neo:X for front height or front wide effects channels. The unit's 1080P and 4K Ultra HD (3840 x 2160) upconversion ensures maximum picture quality, and the analog to HDMI video conversion lets you run just one HDMI cable to the HDTV. A special digitally transmitted play function for iPod and iPhone (via USB) ensures optimum sound quality, with high-performance 192kHz/24-bit D/A converters for all channels. Enhancing audio performance even further, Denon's proprietary Compressed Audio Restorer restores sound quality from compressed music sources such as MP3 tracks.
AVR-X2000: High-Performance, Dazzling Video Performance
The AVR-X2000's advanced video circuitry is capable of upscaling video signals to 4K Ultra HD (3840×2160 pixels), reproducing images that are dazzlingly vibrant and sharp. Expanding the audio capabilities, users can assign 2 channels of the AVR-X2000's 7-channel amplifier to provide power for stereo speakers located in another room. Fully discrete, identical quality and power is available for all 7 channels (95 W x 7 channel), with high-performance 192kHz/24-bit D/A converters for all channels. It also features Audyssey MultEQ XT, Audyssey Dynamic EQ and Audyssey Dynamic Volume.
AVR-X1000: Great Value and Leading-Edge Features
The AVR-X1000 A/V surround receiver is a high-value, high-performance unit with many of the same features and capabilities of Denon's higher priced receivers. It supports 1080P and 3D video pass-through, includes multi-zone capability and fully discrete, identical quality and power for all 5 channels (80 W x 5 channels), as well as Audyssey MultEQ XT, Audyssey Dynamic EQ and Audyssey Dynamic Volume. Denon's proprietary Compressed Audio Restorer is also included for enhanced sound performance.
For more info, please visit www.denon.com