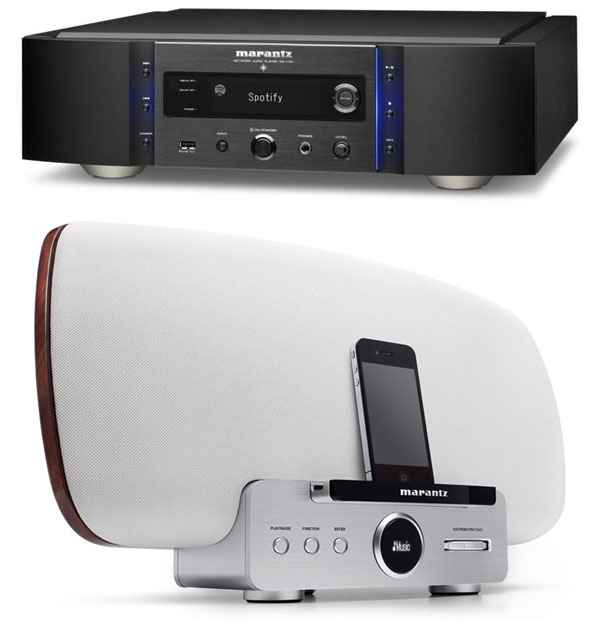 To celebrate its 60 year anniversary, Marantz has launched two new audio products – the Reference Class NA-11S1 Network Audio Player and DAC ($3,799) and the Consolette Wireless Streaming Speaker ($1,349).  The NA-11S1 Network Audio Player and DAC is the company's first player to realize the full potential of very high-resolution new media. It enables users to playback downloaded high resolution files and create true "studio master" quality audio, right in their own living room.  The elegant new Consolette hopes to establish a new category of wireless streaming speakers for audiophiles.   Both the NA-11S1 and the Consolette break new ground and are powerful examples of the type of breath-taking innovation and commitment to quality that Marantz is famous for.
A Brief History of Marantz
In In 1948, CBS ignited the public's interest in quality music reproduction with the debut of the world's first Long Playing (LP) records. Native New Yorker Saul Marantz, a 37-year old music lover, freelance graphic artist and amateur musician, was among those swept up in the new sonic revolution. But while he loved the new level of music quality afforded by LPs, he was less impressed with the playback quality made possible by the audio gear available at the time. He spent many hours in his basement imagining, constructing and reconstructing amplifiers of his own design that would be able to unlock all the music richness and dynamics of his cherished LPs.
Saul spent four years designing, constructing and reconstructing his own pre-amplifier. His creation was revolutionary – a preamplifier equipped with every equalizer curve he could find to handle all the recording characteristics of the new LP records. He called his pre-amp the Audio Consolette. It made such a powerful impression on those who first heard it, that Saul decided to make and sell 100 sets. Less than 12 months later, he'd sold over 400. It was this success that led him to make a commercial version of the Audio Consolette named the Model 1. In 1953 he opened a factory in Queens, New York and the Marantz company was born.
Saul's talent for industrial design and ability to motivate talented engineers with his vision resulted in milestones and world-famous product developments for years to come, such as the renowned Model 7 and Model 8 preamplifiers, as well as the 8B power amplifier and the Model 9 "monoblock" power amplifier from the 1960s that not only found a home in many audiophile systems, but was selected by NASA in a modified version called the 9120 to be used in tracking stations around the world as part of the Apollo space program.
Saul Marantz understood that true hi-fi is about reproducing live performance, providing listeners with a way to experience music just as the artist intended. Perfect specifications and technical accomplishments count for nothing unless a product can unlock the power, excitement and emotion of music. The company's heritage of technical excellence and visionary engineering is exemplified in components that communicate the scale, timbre, pitch and dynamics of music. In fact, as a testament to Saul's visionary approach to home entertainment, some of the company's very early components actually included an input for video – long before anyone was even thinking about attaching video to audio.
For the last 35 years, the vision and commitment of Saul Marantz has been carried on by Marantz Brand Ambassador and legendary audio designer Ken Ishiwata, who combines his own love of music with his conceptual engineering design approach to create unparalleled high quality audio products. Throughout the years, Ishiwata has been intimately exploring and refining all newly designed Marantz units.
From the very start of Marantz, there was an unswerving passion for perfection and devotion to music – the defining factors of the company that pushed and redefined playback boundaries. And sixty years on, inspired by the spirit of Saul B Marantz, Marantz design engineers continue to push the boundaries of technical excellence, because at Marantz, technical excellence is a journey, not a destination. Each incremental breakthrough is celebrated by the company as a forward step that brings music reproduction closer to exactly what the artist originally intended. It's a journey everyone at Marantz is proud to travel — because music matters.
For more info, please visit www.marantz.com