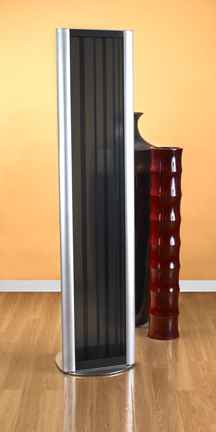 Essence Electrostats  is a company out of the Netherlands that has just introduced an innovative new full-range electrostat loudspeaker – the ir new Model 1200.  Unlike other electrostats, Essence Electrostats' Model 1200 is claimed to be the first in the world to utilize acrylic stators.  The new Model 1200 stands 48.8" tall, 11.5" wide, and just 1" deep, which makes it adaptable to contemporary decor and ever thinning flat-panel televisions.  The new Model 1200 comes with a floor-standing base and black stators but there is the option of having the acrylic stators finished in five other finishes i.e. Clear, Blue, Red, Orange, and Green, for an additional cost.
Unlike other electrostats that use hybrid driver designs to reproduce bass, mid-bass, and lower mid-range frequencies by way of combining a more common dynamic cone driver within a separate enclosure – the new Model 1200 is a true full-range electrostat design.  Essence Electrostats has managed to desing the new Model 1200 to move more air and therefore, given it the capability to extend low frequency output down to 50 Hz, with a frequency response of varying only ±3 dB from 48 Hz right through to 23 Khz.
The new Essence Electrostats Model 1200 is set to begin shipping as early as May 2013 at a MSRP of $3995 U.S. / pair.  Look for more details at: www.essenceelectrostatic.com.