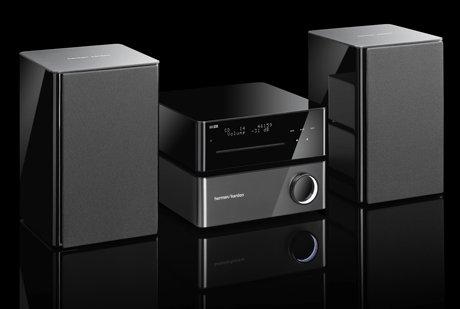 It's been some time since we've seen any mini stereo systems introduced from any manufacturer, and the fact is that there are very few high quality mini stereos out there today.  But now Harman Kardon says that there is one more.  The new Harman Kardon MAS 102 is a four-piece integrated system that includes an amplifier, a CD player and loudspeakers boasting the familiar Harman Kardon signature form factor.
True to the Harman Kardon brand, the integrated system features advanced loudspeakers that promise a clean, powerful, room-filling sound experience discretely from a bookshelf or tabletop. The gorgeous speaker cabinets are easy on the eyes, with or without the speaker grille, and feature metal matrix waveguide-mounted tweeters that deliver big hi-fi sound from any location in the room.
Like its predecessors, the MAS 102 offers CD playbacks, FM radio, and a host of analog and digital inputs to playback music from external devices. New features to the system include digital audio connectivity, iPod/iPhone compatibility via a Bridge III dock (available separately for purchase) and a phono input that connects directly to a turntable. Integrating devices both old and new, the MAS 102 takes compatibility to the next level.
The speaker technology employs flat-panel mid-bass drivers and proprietary MMD tweeters with integral waveguides delivering organic tones with enhanced stereo imaging. A 2 x 65-watt amplifier plays distortion-free sound at any listening level, and its sleek, pristine good looks integrate with any living environment.
Features and Specifications
Complete integration using the performance of separate components with the ease of use of a single integrated system
Fully compatible with iPod/iPhone, MP3 and WMA, CD-R and CD-RW discs
Advanced loudspeakers feature custom 5-inch (130mm) mid-bass drivers and 1-inch (25mm) MMD dome tweeters
Clock includes a sleep timer and dual alarms
Includes full navigation IR remote control
Phono input allows connection to turntables
Elegant and pristine design and compact in size
The Harman Kardon MAS 102 complete, integrated audio system is available now for $999 at www.harmankardon.com/MAS102