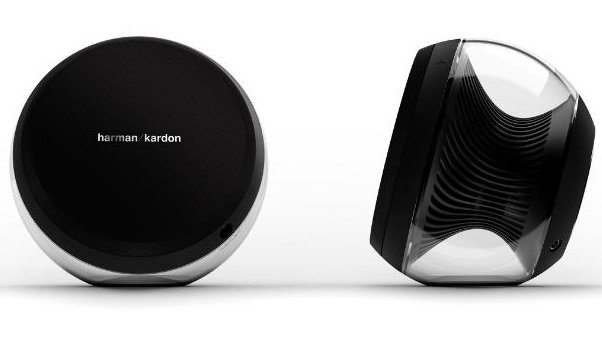 Harman International Industries, Incorporated, has just announced a new full-range stereo sound system.  The Harman Kardon Nova Stereo Streaming System has been designed to connect easily to laptops, desktop computers, tablets, and mobile devices via digital connections.
The system is highlighted by twin translucent spherical exterior speaker enclosures that reveal the unique turbine housing of the woofer and passive radiator.  The non-visible features include: performance-tuned 2.5″ drivers and 1.25″ tweeters, and Harman Kardon Digital Signal Processing for sound staging and voicing geared to realism.
The Harman Kardon Nova system has broad compatibility with digital products and its combination of analog and optical inputs makes it perfect for use with Roku, HDTV, and Apple TV systems. Quick NFC setup makes it easy to stream music wirelessly over the Harman Kardon Nova system using Bluetooth.  With a very compact size, the Nova can be placed almost anywhere to provide music enjoyment.
To stream your music collection from anywhere on your network, users just need to download the Harman Kardon Remote app for your iPhone, iPad or Android smartphone.  This app also simplifies product setup and gives you control of product specific features for full wireless control.
Features: 
•Cutting-edge balance of beauty and performance
•Performance-tuned 2.5″ drivers and 1.25″ tweeters for a richer listening experience
•Passive radiator with turbine enclosure for extended bass response
•Harman Kardon DSP for improved soundstaging and voicing
•Frequency response: 70 Hz to 20 kHz
•Wireless Bluetooth streams music from your stereo, smartphone, or MP3 player
•Analog and optical inputs for use with HDTV, Apple TV, or Roku
•Sleek translucent enclosure makes its inner workings visible
•Compact spherical shape fits in and complements any surroundings
•Comes with power adapter and 3.5 mm audio cable
The Harman Kardon Nova Stereo Streaming Sound System is available at a MSRP of $299 U.S.  Look for more information at: http://www.harmankardon.com/.