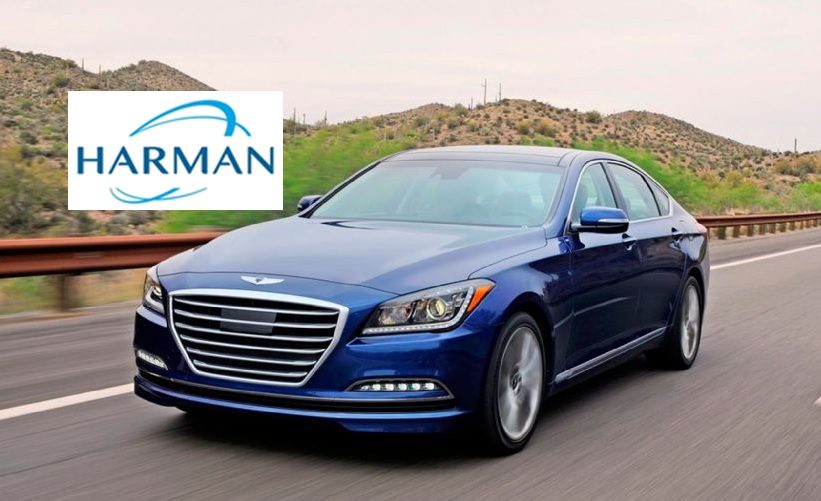 Harman, has just announced that it has started production of its advanced connected car and audio solutions for the all-new Genesis G90 luxury sedan, by Hyundai; the first vehicle in Hyundai's new flagship Genesis luxury brand.
The new Genesis G90 from Hyundai sets a new standard for the company in vehicle quality and performance and will incorporate Harman's most advanced products and technologies. The integrated Harman designed and built infotainment system for the Genesis G90 includes 2D and 3D navigation, high definition mapping, voice commands, enhanced Bluetooth hands free connectivity, rich multimedia support, and a 200GB hard drive. Harman's attention to design and functionality is evident in the luxurious interface, featuring a 12.3-inch HD screen with touch control located in the center console. The wide screen format supports split display, so entertainment, apps, media and phone information can easily be displayed along with navigation, HVAC, and vehicle system data. The Harman infotainment system also includes dual 9.2-inch rear seat monitors for backseat connectivity and entertainment. High speed embedded connectivity is supported through an integrated 4G/LTE modem.
Harman has also engineered and built the premium Lexicon surround sound system that complements the luxurious cabin interior. The finely-tuned sonic experience for the Genesis G90 is offered in two options – a 14-speaker, 600-watt base model or upgraded 17-speaker, 900 watt system. Designed specifically for the unique characteristics of the vehicle, Lexicon engineers have spent thousands of hours of meticulous "voicing" to deliver an experience in the Genesis G90 that marries the science of sound with the passion of art. The Lexicon Sound System boasts Quantum Logic surround sound, while Harman's patented Clari-fi software rebuilds details lost in compressed audio files, adjusting the treatment based on the quality of the audio signal to restore a hi-fidelity listening experience.
The new Genesis G90, from Hyundai, replaces the renowned Hyundai Equus as the brand's flagship luxury vehicle. Available now in Korea (as the Genesis EQ900), the Genesis G90 will be available in North American and European markets by mid 2016. Look for more details on this at: http://www.harman.com