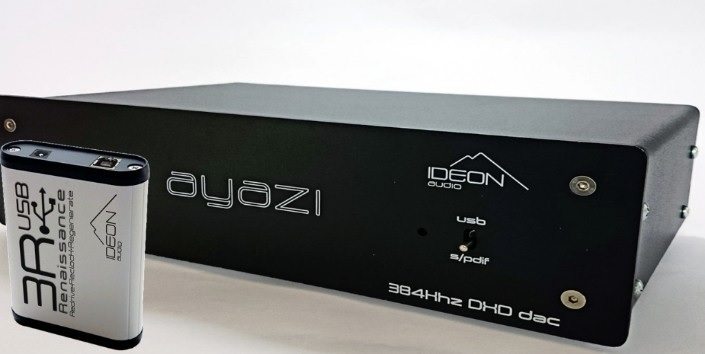 Ideon Audio is now available to the North American market for the first time. Ideon's beginnings are an audio companies dream, a team of audiophiles including an experienced engineer, devoted to designing and building user-friendly high-end music reproduction products at an affordable price.   Currently Ideon Audio has two products the Ayazi High Resolution USB DAC and just released is the 3R USB Renaissance.
The 3R dramatically improves the sound from digital audio computer files, music streaming services (like Spotify, iTunes, Tidal, etc.), even from low-res YouTube playbacks! Ideon Audio's 3R USB Revive connects between the digital output (host) and the Dac. It achieves excellent sound performance by uncovering lost detail, enhancing dynamics, re-clocking the signal using ultra-low jitter oscillators, and minimizing transmission losses.
The 3R is a class leader, outperforming all competitors.
Special introductory pricing, is $299.
The Ayazi was conceived, designed, and fine-tuned by a team of audiophiles and music lovers with professional, engineering know-how. The aim: bring out the musical magic encoded in the numbers stored within the digital medium, and make it user-friendly and affordable. In other words, to create a device that we, music lovers and audiophiles alike, would wish for.
The Ayazi offers support for up to24-bit/384kHz audio via USB and 24-bit/192kHz over S/PDIF. DSD64 and DSD128 playback capability is supported via USB (all via on-the-fly software conversion 352.8/24).
Don't dismiss the lower retail price of the Ayazi, it's performance punches way above it's weight class.  Special introductory pricing, is $1599.
To find out more, please call 416.994.5571 or email arcadiaaudio@gmail.com