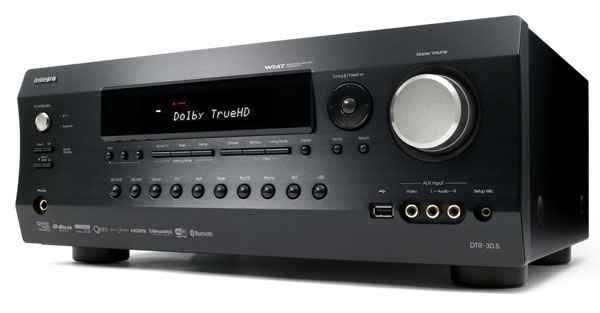 Integra, who designs products specifically for custom installers, has just introduced the DTR-30.5 home theater receiver with new home integration and performance features.  Notably this is the company's first receiver with built-in Wi-Fi and Bluetooth interfaces for modern media connectivity. It is also Integra's first with 4K pass-through and up-scaling for Ultra HD high definition video displays, and it includes new Phase-Matching Bass technology for exceptional sound clarity.
With so many different music source options available today, this receiver has built-in Wi-Fi and Bluetooth to stream music from phones, tablets, and computers. This gives it the capability to playback high-definition music files in FLAC, DSD, ALAC, HD 24/96 and HD 24/192 formats from HD music download services.
Connection options include six HDMI inputs with two outputs for connection to streaming services via Apple TV, Roku, blu-ray players and other sources, a USB port, and a hard-wire Ethernet connection. These networking features also provide access to the widest selection of audio streaming content such as Spotify, Pandora, Rhapsody, SiriusXM Internet Radio and Tune In. In addition to all this new connectivity, the DTR-30.5 also provides extensive support for legacy digital and analog sources, including a phono input for connecting a turntable.
Increasingly, custom installers are equipping premium home theaters with the new 4K Ultra HD video displays, which are the pixel equivalent of four current 1080p HD screens. The 4K pass-through feature allows Ultra HD video signals to connect directly to these video display without interference or modification. For conventional video sources, it includes the remarkable Marvel QDEO processor to convert, or "upscale," lower resolution video to a full 4K presentation via HDMI.
Sound quality has always been a key factor in Integra's design process. The new Phase Matching Bass optimizes low frequencies while preserving mid-range clarity. It counters phase shifting — which can affect sound quality — by synchronizing the timing of different frequencies. The result is deep, well-defined bass that won't overwhelm vocals or strings.
With plenty of audio power on tap to drive each of seven loudspeakers in a home theater surround system, the Integra DTR-30.5 is rated at 95 Watts per channel. The amplifier sections employ the company's three-stage inverted Darlington circuitry and Wide Range Amplifier Technology (WRAT) — a low negative-feedback topology for low distortion and high dynamic range.
The Integra DTR-30.5 includes an array of modern and very useful features. These include InstaPreview, which allows users to monitor multiple program sources with this HDMI variant of picture-in-picture. There is also Mobile High-definition Link (MHL) to deliver HD video and up to 7.1 channels of audio from compatible Andriod smart devices and other products.
In addition to the 7.1 channel Dolby True HD and DTS-HD Master Audio processing that is part of the HDMI spec, the DTR-30.5 uses Dolby Pro Logic IIz to provide alternate surround option for front height channels. Audyssey MultEQ is included for automated room setup using an included microphone. Audyssey Dynamic EQ and Dynamic Volume provide further sound enhancements.
Custom installers will appreciate the inclusion of Powered Zone 2 and Zone 2 preouts, two IR inputs and one output for remote control integration, and three 12-volt triggers. A bi-directional RS-232 port is available for connection to some home automation systems.
The Integra DTR-30.5 AV receiver begin shipping this month with a price of $1,100 CAD. For more info, please visit www.integrahometheater.com