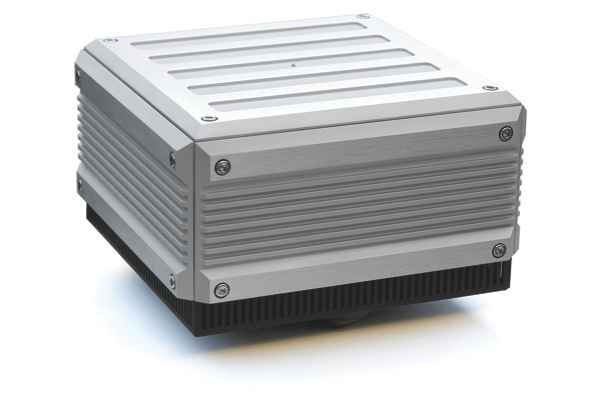 IsoTek, has just released a successor to its GII Titan power conditioner – the new Evo3 Titan, which sits within their Select series of products. Designed for high-current filtering, the new Evo3 Titan is optimized for use with power-hungry amplifiers, mono-blocks, active loudspeakers and subwoofers.
The new Evo3 Titan maintains a compact size but incorporates enhancements, many of which are trickle down, coming from the Titan's sibling – IsoTek's flagship Super Titan. The new Evo3 Titan utilizes the same circuit as the Super Titan, reconfigured for a more compact form, while keeping purity of design.
The Titan's proprietary Direct-Coupled circuit topology has also been upgraded, as follows: a doubling of the copper component (to a weight of 2oz) before 24-ct gold plating – for improved reliability and signal transfer and; a fully optimised KERP (Kirchoff's Equal Resistance Path) circuit design that ensures equal resistance and equal power delivery to all outlets.
In addition, the Evo3 Titan's internal wiring has also been upgraded to IsoTek's newly-developed UP-OCC (Ultra Pure Ohno Continuous Cast) high purity copper solid core internal wire, which is silver plated before being insulated with Teflon. A fine Teflon strand is wound helically around the wire before a secondary Teflon tube is extruded over the top, creating an air gap between wire and insulating tube and forming a virtual air dielectric (VAD) which has virtually no capacitance, ensuring an exceptionally vivid performance.
Finally, the EVO3 Titan features a massive 112,500A of instantaneous protection from the effects of power spikes and surges. IsoTek's unique advanced defence system uses a pyramid array of VDR (voltage dependant resistor) devices that deliver superior protection and react more aggressively as a fault becomes more dangerous.
Key Features:
Unique nine-stage Direct-Coupled conditioning network in a series parallel configuration that delivers extremely low impedance and high current power.
Removes both common mode and differential mode mains noise, with a 600% increase in common mode filtering and 20% increase in differential mode filtering compared to the original GII Titan.
RFI (radio frequency interference) reduction 82dB (50 ohms standard), down to 5Hz frequency range.
Two independent outlets plus additional Neutrik auxiliary.
Delivers 4,600W of continuous power with 25,000W transient ability (supply permitting).
112,500A of instantaneous protection, featuring IsoTek's unique sequential protection system with earth fault protector.
KERP (Kirchoff's Equal Resistance Path) technology ensures equal resistance and equal power delivery to all outlets.
Internal wiring: solid core silver-plated UP-OCC (Ultra Pure Ohno Continuous Cast) wire with Teflon VAD (virtual air dielectric) technology.
Available with UK, EU, US, Australian, Swiss and South African sockets.
Specifications:
Number of outlets: 2 + Neutrik auxiliary
Type of outlet options: UK, EU, US, AU, CH, ZA
Mains inlet: C20 type IEC
​Mains voltage: 100-240V AC / 50-60Hz
​Maximum current: 20 amps continuous
Total power: Nominal 230V, 4,600W; Transient 25,000W
Dimensions: 275 W x 182.5 H x 275 D (mm)
Weight: 17kg
The EVO3 Titan is available now in either black or silver finish and comes with IsoTek's EVO3 Premier power cable fitted with 16 amp C19 IEC connector. U.K. pricing is £2695 (including VAT); however, North American pricing has not yet been announced. Look for more information at: http://www.isoteksystems.com/.
Comments are closed.