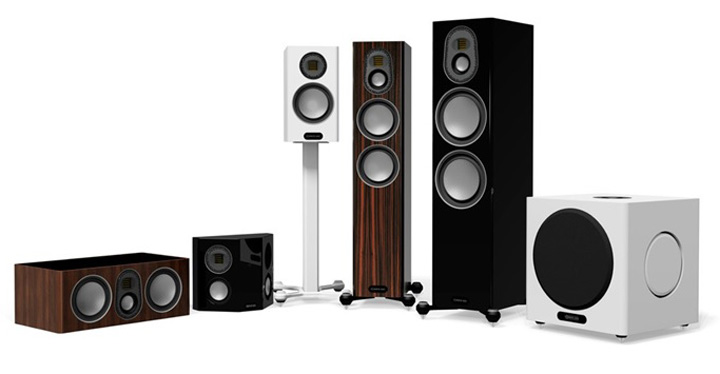 This March 22-24, distributor Kevro International, will demonstrate the newly launched Monitor Audio 5th generation Gold Series loudspeakers to the North American market for the first time. Kevro will also showcase products from Rotel and Roon – two brands which Kevro began distributing recently in Canada.
Inside their generous exhibit room, Kevro will showcase a musically seductive system consisting of the flagship Monitor Audio Gold 300 speakers alongside Roksan's K3 integrated amp, Roksan K3 DAC, Rotel RB-1590 power amp, and the Roon Nucleus server. This is one demo you won't want to miss!
The Monitor Audio Gold 300 features a pair of powerful long-throw 8" RDT II bass drivers in each cabinet. With low frequencies being accurately delivered (down to a seismic 30 Hz, and high frequencies reaching beyond 50 kHz) this is a truly wide-band speaker designed for every possible listening requirement – it promises to deliver each nuance and detail in a recording with sublime accuracy.
The Rotel RB-1590 is at the top of its class as a stereo amplifier with dual toroidal transformers and special slit foil capacitors. This new Class AB stereo power amplifier is rated at 350 Watts per channel into 8 ohms, with both channels driven. That is a lot of power, but larger listening rooms or less sensitive loudspeaker designs require it to bring out the best possible performance and attain realistic audio dynamics.

The Roksan K3 integrated amp is equipped with a Moving Magnet phono input and five-line inputs – making it a flexible hub for all music system. Bluetooth aptX technology allows music to be streamed from Bluetooth devices at a high quality, with flawless wireless connectivity. A power output of 140 W per channel (into 8 Ohms) and superb bass drive deliver a wide detailed sound stage for a truly engaging musical experience.
Last but not least, the Roon Nucleus is a component that manages all your music – on hard drives, NAS, and streaming content – and allows you to play it on all the audio devices around your home.
Be sure to put Kevro International on your list of rooms to visit while at the Montreal Audio Fest!
For more info, please visit www.kevro.com