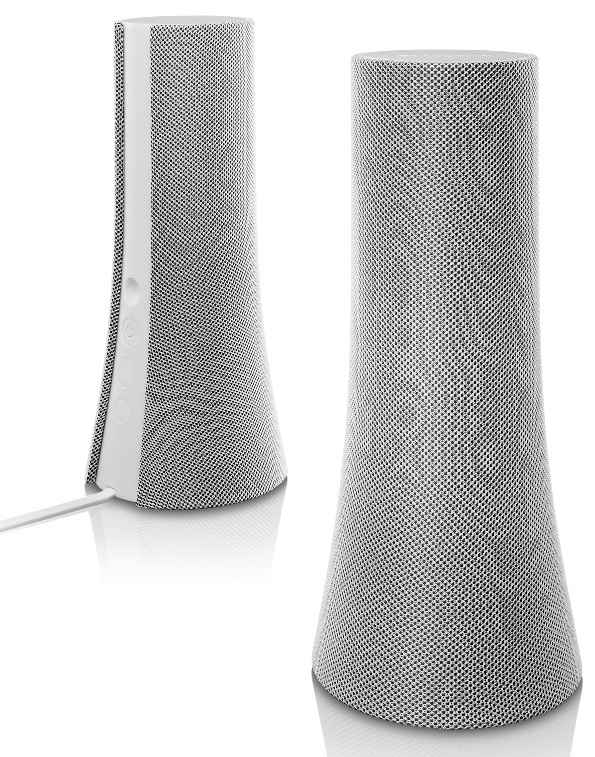 Logitech has just introduced their Z600 Bluetooth Speakers.  This new wireless stereo speaker product has been styled to complement the Mac and Ultrabook computers.  The Z600 allows streaming of audio from a Bluetooth compatible computer, smartphone or tablet.  In fact, up to three devices can be setup simultaneously, allowing for quick switching between sources for playback.
Each column encorporates three separate drivers for improved range and clarity.  Controls on the Logitech Bluetooth Speakers Z600 are integrated in the design with the top panel of the right speaker being a touch responsive disc panel.  Volume can be changed by gliding a finger around the edge of this disk.  Other controls for power, Bluetooth setup and a 3.5 mm input are discreetly placed in the back.  
A USB Bluetooth transceiver is included with the Logitech Bluetooth Speakers Z600, which allows connection to computers and/or devices that do not have Bluetooth functionality and with the 3.5mm auxiliary input the Z600 can be connect to virtually any device.
The Logitech Bluetooth Speakers Z600 are expected to be available in August 2013 for a MSRP of $149.99 U.S.  Look for more information at: www.logitech.com.