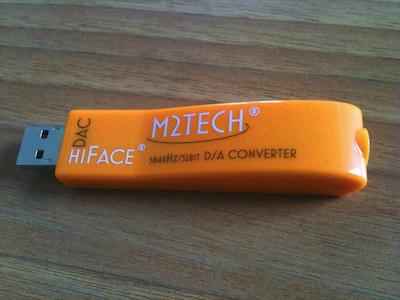 M2Tech has just announced a new innovative product.  Much like the popular AudioQuest Dragonfly DAC, here we have a thumb-drive sized DAC from M2Tech but what is unique here is that this tiny thumb-drive DAC has the ability to handle 32-bit/384kHz conversion, unlike most DAC's on the market now that can only handle up to 24/192 conversion.  
The new hiFace is both low-jitter and asynchronous USB, featuring M2Tech's proprietary hiFace technology from their former hiFace 1 and 2; however with an all-new DAC that provides the increase capabilities.  The new hiFace 32-bit/384kHz DAC has been designed to provide accurate and crystal-clear sound even with lower resolution 16/44.1 files.
The hiFace interface is USB 2.0 and will work with computers running Windows, MacOS or Linux.  It incorporates an  onboard driver for Microsoft XP, Vista, W7 and W8 PC's and will work with Mac and Linux systems without the need of a driver.
The hiFace DAC's analogue output, via a 3.5mm stereo jack socket, delivers 2.0Vrms, and will drive preamps, integrated amps and a wide range of headphones without fuss.
Like all other M2Tech products, the HiFace DAC is entirely designed and manufactured in Italy.  It will be available in April at a MSRP of AU$299.  Look for more details at: www.m2tech.biz.